More than 75% of our students come from the surrounding six counties and choose employment close to home after graduation in healthcare, business management, computer technology, manufacturing, construction, transportation, and more.
While SCTCC has offered liberal arts and sciences courses for years, in 2010 the College became a comprehensive technical and community college offering the Associate in Arts degree in addition to technical programs.
Students who seek continuing study or employment outside of Central Minnesota find that their education is portable, especially when students choose further education at any one of Minnesota's state universities.
Location
SCTCC is located in the heart of Central Minnesota, just one block from the banks of the Mississippi River and a short drive to many scenic roadways through the farmland and rolling, wooded hills of our region.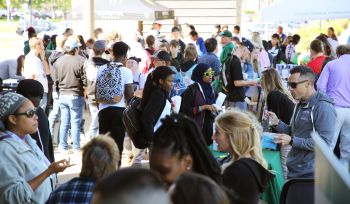 Our St. Cloud community is one of the fastest growing metropolitan areas in Minnesota, featuring the best in education, healthcare, business services, cultural and recreational activities as well as public transportation. We are a one-hour drive to the Twin Cities metro area as well as the many out-state lakes and parks that are distinct Minnesota icons.
Enrollment
Nearly 5,000 students are enrolled in credit-based classes with an equal number of men and women. The college has doubled in size the last 10 years and continues to be one of the fastest growing colleges in the Minnesota State colleges and universities system.
Financial Aid & Scholarships
More than 80% of St. Cloud Technical & Community College students receive some type of financial assistance for school in the form of loans, grants, and scholarships.
Accreditation
St. Cloud Technical & Community College is one of 37 members of Minnesota State and is accredited by the Higher Learning Commission.
Accreditation granted:    
06/21/1985 - Present
We are SCTCC! Learn more about the college's leadership, which includes the college president and college administration.
Learn more about SCTCC from a quick fact sheet! Whether it's our small class sizes or 99% Job Placement Rate (2022), you can tell a lot about a college from the numbers.
SCTCC's Mission and Student Experience Statements, along with Minnesota State's Equity 2030 initiative, are the bedrock of SCTCC Next.