SCTCC Next:
Moving Forward…Together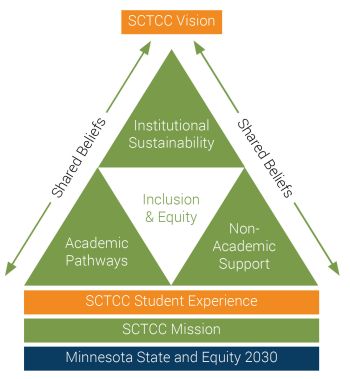 SCTCC's Mission and Student Experience Statements, along with Minnesota State's Equity 2030 initiative, are the bedrock of SCTCC Next.
Equity 2030 is a strategic initiative to eliminate educational inequities across race and ethnicity, socioeconomic status, and geographic location at every Minnesota State college and university by 2030.
SCTCC's four strategic priorities, guided by our Shared Beliefs, serve to advance our Vision.
Mission Statement
A mission statement is a succinct, memorable statement of an organization's reason for being. The statement starts with "We" to reflect our collective and individual ownership and shared commitment to our mission.
We provide the education, training, and support necessary for equitable participation in our society, economy, and democracy.
Vision Statement
An organization's vision statement defines the long-term goals of the organization and provides a clear and specific aspiration. A vision statement should be ambitious, drive action, and serve as a filter for all other decisions. The statement starts with "We" to reflect our collective and individual ownership and shared commitment to our vision.
We are a community of learners rooted in meaningful relationships where everyone belongs and thrives.
Shared Beliefs
The heart of any organization is its people and the most effective organizations are built on a shared sense of purpose and common beliefs. These shared beliefs help to set expectations and establish norms for how to work together to advance our mission and achieve our vision.
Education empowers individuals and transforms generations.
Every individual has intrinsic value and every voice deserves to be heard.
Our differences enrich our community.
An antiracist and antidiscrimination ethos is necessary for advancing social justice and equity.
It is our responsibility to ensure equitable outcomes for our students. Each student can succeed.
Innovation, flexibility, and life-long learning are critical for our community to thrive.
Mutually accountable relationships built on trust are essential for our success.
Community partnerships strengthen and sustain us.
Student Experience Statement
St. Cloud Technical & Community College is committed to student success, equity in outcomes, and providing an empowering and transformational student experience that includes:
educational programs that prepare students for the future of work and life through innovative, flexible, and relevant learning experiences;  
personalized and supportive services that help learners achieve their academic and career goals and meet their non-academic needs;
a welcoming and engaging environment that fosters a sense of belonging through meaningful connections with employees and other students; and
clear pathways to completion, transfer, and a fulfilling career.
St. Cloud Technical & Community College will promote this experience by providing:
a caring, inclusive, and culturally responsive community that ensures equitable outcomes for all students;
streamlined processes that ensure timely communications and delivery of resources and services when students need them;
proactive, effective, and ongoing supports that guide students in selecting and progressing through their program of study; and
a quality and affordable education in a student-ready environment that meets students where they are and serves the whole person.