Invest in you and your future!
People with a 2-year degree have greater employment rates and earning potential than those with little or no higher education. If you choose to continue study at a 4-year college, your employment and earning potential increases even more. So, what are you waiting for? Invest in you, and your future.
Tuition & Fees
Tuition rates are frozen at 2022-2023 levels through 2025.
For most classes at St. Cloud Technical & Community College, the cost of tuition and fees is $203.16/credit for in-person and $209.91/credit for online classes, for both resident and non-resident students during the 2023-2024 Academic Year.
Some courses and programs have a higher tuition and fees in order to provide the necessary technology and equipment to offer them; these include, but are not limited to:
Online courses and programs
Health programs
In addition, several programs require students invest in tools and equipment for use in the program as well as in their chosen career following graduation. For a comprehensive look at tuition, fees, books, supplies, tools, and equipment costs per program, review the Program Cost Sheet.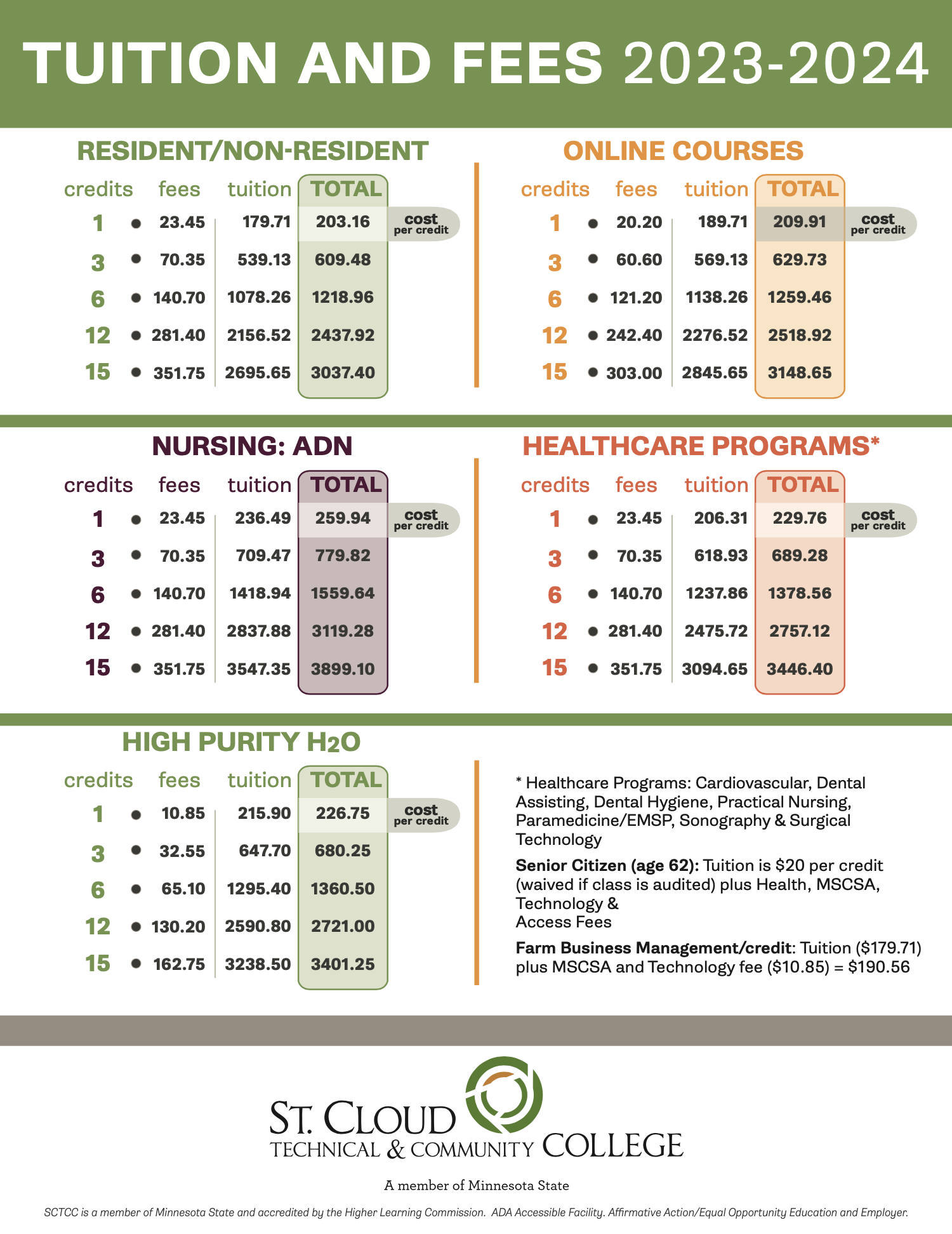 Download a PDF of the Tuition and fees rates
Fee purpose and amount per credit
Fees provide necessary funds to help create and maintain non-instructional services essential to the student educational experience. The following fees are assessed on a per-credit basis unless otherwise noted above.
| | |
| --- | --- |
| Fees | Cost per credit |
| Student Life/Activity Fee | $7.50 |
| Technology Fee | $10.50 |
| Health Services Fee | $1.85 |
| Parking Access Fee | $3.25 |
| Student Association Fee | $0.35 |
Purpose of each fee
Student Life/Activity Fee: Helps offset the costs of student services, such as career services, free rides on Metro Bus, discount membership to the YMCA, student clubs, activities, and athletics.
Technology Fee: Helps ensure that students have access to and experience with the technology critical to their success, both in their academic endeavors and their professional careers.
Health Services Fee: Helps provide student prevention and health education programs, a Mental Health Professional, and support for students with health matters such as eating disorders, alcohol and other substance abuse, and stress management.
Parking Access Fee: Helps pay costs associated with construction, maintenance and operation of parking facilities.
Student Association Fee (MSCA): A Minnesota State College Student Association fee assessed per credit for student-initiated programs.