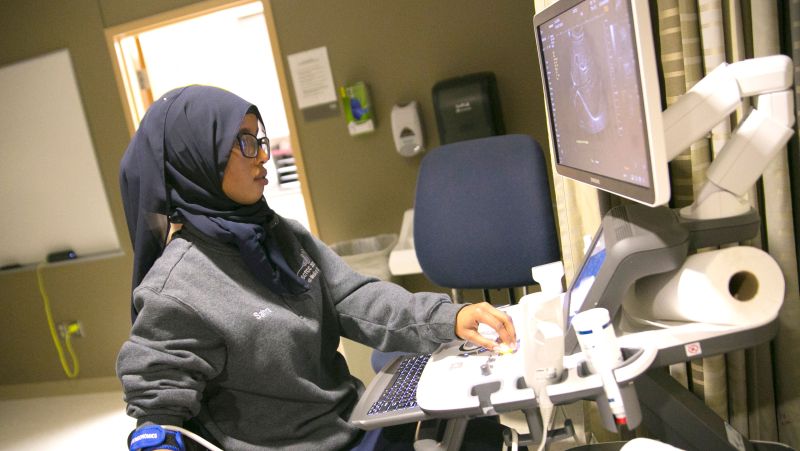 SCTCC is the recipient of $1,018,561 from the Leona M. and Harry B. Helmsley Charitable Trust to enhance and expand the current sonography program and develop new advanced training and continuing education offerings to be delivered online and on-site at locations in Greater Minnesota.
The grant is a part of a state-wide initiative to boost sonography and point-of-care ultrasound training opportunities as well as assist hospitals and health centers in Minnesota to purchase ultrasound imaging devices.
SCTCC will purchase two state-of-the-art ultrasound systems for the Sonography lab on campus to ensure students are training on the latest equipment. It will also allow SCTCC Customized Training to offer virtual training and simulations to currently employed sonographers and ultrasound technologists. Ensuring access to advanced certifications and training will support the current workforce while also expanding opportunities for future students.
"The College is so grateful for the grant provided by the Helmsley Charitable Trust," said Jennifer Erickson, Interim Dean of Business, IT, and Education. "The expansion of the Sonography AAS and training programs that Customized Training can offer will allow SCTCC to more easily respond to workforce needs in this field we well as provide more accessible training opportunities." 
Walter Panzirer, a Trustee for the Helmsley Charitable Trust, said the grants will help improve access to exceptional medical treatment for all Minnesotans, whether they live in the heart of Minneapolis or a smaller rural or underserved community.
Statewide, Sonography jobs are expected to grow by nearly 18% between 2020 and 2030. Estimated replacement and new job openings are projected at more than 600 positions. Of that, 266 openings are expected outside the seven-county metro region.
The grants were announced Tuesday, March 21, during a news conference at Hennepin Healthcare in Minneapolis.
The Leona M. and Harry B. Helmsley Charitable Trust's Rural Healthcare Program funds innovative projects that use information technologies to connect rural patients to emergency medical care, bring the latest medical therapies to patients in remote areas, and provide state-of-the-art training for rural hospitals and EMS personnel. For more information on the Helmsley Charitable Trust, visit www.helmsleytrust.org.
More information on SCTCC's Sonography Program