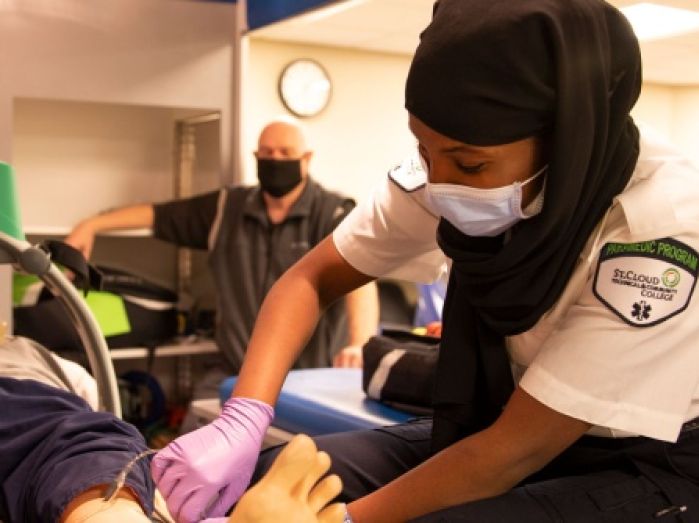 I can be a role model for other Somali girls who want to do the same thing, who are scared because no one else is doing this.
By Kate Wallace
When Sainab Gaal talks about the Paramedicine program, her eyes light right up. Even though she says she's "very spontaneous," you can tell that a lot of thought has gone into choosing the paramedic profession.
And with good reason: Sainab is one of the first Somali women to go into the field of Paramedicine in the US.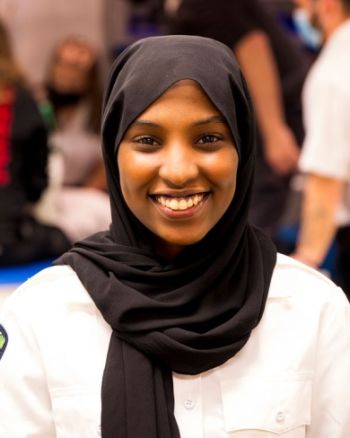 SCTCC was the obvious choice for her. She had looked at a program in the Twin Cities area, but her family lives in St. Cloud, and "the Cities gives me a claustrophobic vibe," she said. The support system she would have from her family is really important to her as well. Her parents were born in Mogadishu, Somalia, and Sainab was born in Marshall. Her family moved to St. Cloud when she was in the second grade, and she graduated from Tech High school.
It was an EMR (emergency medical responder) class while she was in high school that really piqued her interest in Paramedicine, though Sainab had always been interested in the health field.
In addition to the high school EMR class, Sainab attended CareerOne, hosted by Career Solutions. CareerOne is a summer skills training program for 14-17 year olds that takes place at SCTCC. She attended in 2018 and received college credits that counted toward her pre-requisites for the Paramedicine program.
"My older sister took some health classes, and I would look at all the anatomy books with her," explained Sainab. "The health field seemed like a lot of fun—helping people in need. I wasn't sure where I fit in, but then I took the EMR class in high school, and bingo. There it was."
What is at the heart of Sainab's choice is helping other people. It never occurred to her that she may be the first Somali woman in the field. When asked about it, she admits that it can be a lot of pressure, but it's also something that she's embracing. 
"It's a little nerve wracking. But I can be a role model for other Somali girls who want to do the same thing, who are scared because no one else is doing this."
Even though she wholeheartedly embraces the idea of following her heart, there were a few cultural barriers to overcome. Her family and friends were nervous and wanted to make sure that she had a good impact and upheld her reputation. She had to make a list of pros and cons for her mom. And when she told her grandma about her classes, the first thing she asked was if Sainab was wearing pants while in class.
But at the same time, it's really important to the older generation of Somalis that there are people in these fields that look like them and share a cultural background. Plus, Sainab explained, just because she does wear pants for her job doesn't make her less of a Muslim. "I'm doing this for the sake of others," she emphasizes. Part of her faith is helping other people. "For me personally, you have to set aside your [cultural practices] for a second to help other people. I know I'm helping other people and sticking by their side when they have nobody else."
Sainab is quick to point out that more and more young Somali folks are going into the health field and that it's important to find people with different cultural backgrounds willing to go into different fields. There are several reasons why this is important, and among those, one that she is working on is her language skills.
"I've decided to hone my own Somali language, because I'm not the best at that either," Sainab laughs. "But being the first, I have to be that translator. I asked my mom and sister to help me speak it, and they are all for that."
Sainab is set to graduate May 2022, and she's still deciding where to work, but she's leaning toward a more rural area. No matter where she ends up putting her skills to work, she knows that she's following her heart. And that's the piece of advice she wants everyone to take away: "Be a mechanic if you want to. Be a pilot if you want to. Scuba dive if that's what you're passionate about. Nothing's stopping you besides schooling, right?"