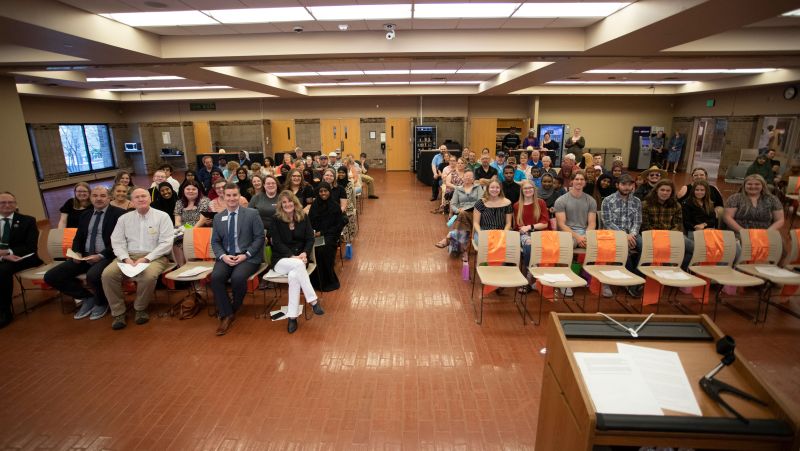 On Wednesday, May 10, SCTCC students, faculty, and staff gathered in the Commons to celebrate students and others who have made a difference during their time at the College.
The Cyclones Celebration combined three graduation-related events that have happened in years past: TRIO graduation, Student Recognition, and Academic Achievement.
Students who attended were either members of TRIO, nominated by SCTCC faculty and staff, RSVPed to attend for Academic Achievement, or a combination of the three.
In addition to receiving recognition for these achievements, several others were recognized for their outstanding achievements while at SCTCC, including a faculty member and staff member who were nominated by students.
Allison Fritz and Christian Lessman were named the female and male Athlete of the Year. Allison is a two-sport athlete, playing Volleyball and Women's Basketball for the Cyclones. Christian plays Baseball for the Cyclones. The Haller Athlete of the Year awards are given to student-athletes who are a superior competitor, quality student, and an outstanding citizen.
Students were asked to nominate an Outstanding Faculty Award to an instructor who has made a positive impact on students' lives and on multicultural advocacy at SCTCC. Vice President Ken Matthews presented the award to Connie Logeman, Education instructor.
Additionally, students nominated an Outstanding Impact Award to recognized a staff member who made a positive impact on students' lives and on multicultural advocacy at SCTCC. Vice President Kari Matson presented the award to Avery Cook, Accessibility Coordinator.
Student Heather Nulf was awarded the Student Leadership of the Year Award, which was given to a student for their outstanding leadership and contribution to SCTCC and the community. Heather has helped start two clubs during her time at SCTCC, along with being a part of TRIO. She is a graduate of the Marketing & Design program.
Student Najima Omar was awarded the Community Service and Involvement Award. This award recognizes a graduating student involved in the local community who serves as a role model and demonstrates the importance of community impact. Their actions inspire others and promote diverse environments that foster acceptance and inclusion to SCTCC and the greater community.
All students in attendance were given certificates to honor their dedication to SCTCC and a deeply rooted lapel pin. TRIO graduate Nimco Abdullahi gave a heartfelt speech about the importance of persevering, and the ceremony was punctuated with musical performances and cheers from family and friends.
The Cyclones Celebration is a warm-up for the Commencement ceremony to be held Friday, May 12, at 2 p.m. at River's Edge Convention Center. All graduating students are welcome to attend the ceremony to celebrate their achievements. It's free for guests and no tickets are required to attend.