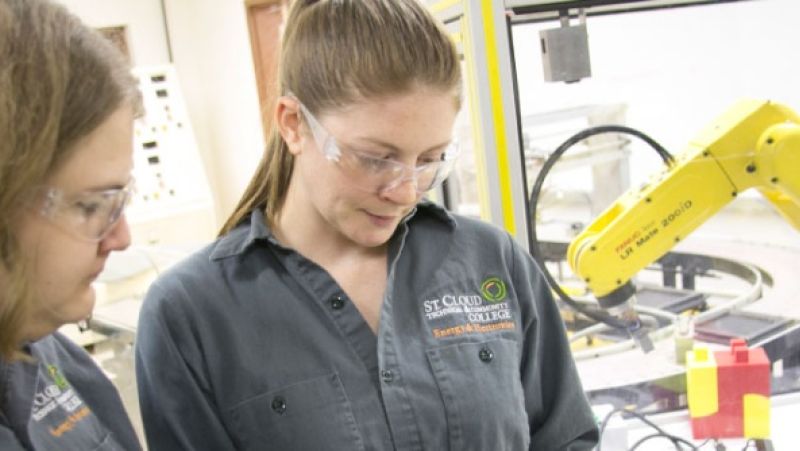 On Tuesday, May 19, St. Cloud Technical & Community College (SCTCC) was awarded a $2.5 million grant from the U.S. Department of Commerce's Economic Development Administration (EDA) to create an Advanced Manufacturing Training Lab on the SCTCC campus. The College is also committing an additional $2 million to this project for a total of $4.5 million in available funds. The project is expected to be completed by early 2023.
"This is one of the largest grants ever received by the College, and this critical funding will help us meet an important student and community need," said Dr. Annesa Cheek, SCTCC President. "The College is excited by the level of community support and encouragement we received in securing these federal funds to help advance a critical economic sector of our region."
Through the Advanced Manufacturing Training Lab, SCTCC will expand and renovate current lab space, install state-of-the art equipment and enhance program quality by creating a learning environment for students that more closely mirrors the real world of work. Programs in this project will include: CNC and Advanced Machining; Computer-Aided Design Manufacturing; Computer-Aided Mechanical Design; Energy & Electronics; and Welding/Fabrication.
The new lab will also expand training opportunities for those currently in the workforce and support the creation and retention of high-quality jobs, particularly for the unemployed and underemployed, throughout the greater St. Cloud region.
The SCTCC Advanced Manufacturing Training Lab and the accompanying program enhancements will leverage regional assets and support the implementation of regional economic development strategies designed to create jobs, leverage private capital, encourage economic development and strengthen the region's ability to compete in the global marketplace.