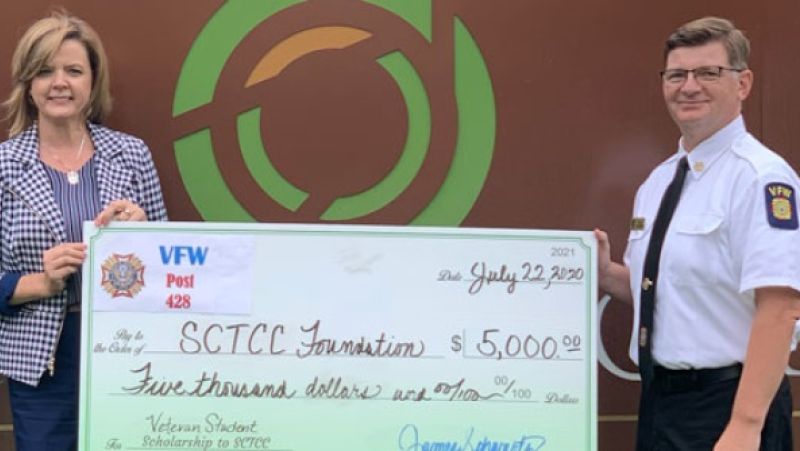 Veterans at SCTCC can expect even more support after a generous $5,000 donation from VFW 428 – The Granite Post.
The funds will support student veterans at SCTCC who show financial need. A scholarship will be started through the SCTCC Foundation, which students can apply for through the usual scholarship application process. In addition, funds will be available for veterans with emergency needs, like car repairs, unexpected bills, small amounts of tuition or books, or childcare. A committee will be created to review applications for emergency funds, and members will provide support to make sure the veteran's need is taken care of.
Student veterans who have an emergency need should get in touch with faculty advisors Brian Volkmuth or Heidi Smith until there is a more formal application process in place.
VFW 428 - The Granite Post had given funds to local colleges in past, and this year they wanted to make sure that SCTCC was included.
"This is just one more example of the local community partnering with SCTCC to make sure the students, and in this case, student veterans, are taken care of. The members of VFW 428 want the veterans at SCTCC to know that we have their six," explained Kelly Halverson, an SCTCC chemistry instructor, Army veteran, and member of The Granite Post.
SCTCC is a Yellow Ribbon college, and veterans have many supports in place on campus. In addition to military education benefits like the GI Bill and tuition assistance, military training may translate into college credits.
"I would like all veterans in central Minnesota to know that SCTCC supports veterans and will work with you to further your education," Halverson stated.
Halverson is willing to chat with any area veterans who want to learn more about an education at SCTCC. Start the conversation by emailing kelly.halverson@sctcc.edu. Additionally, information on services, getting started, and military benefits can be found at https://www.sctcc.edu/veterans-services.