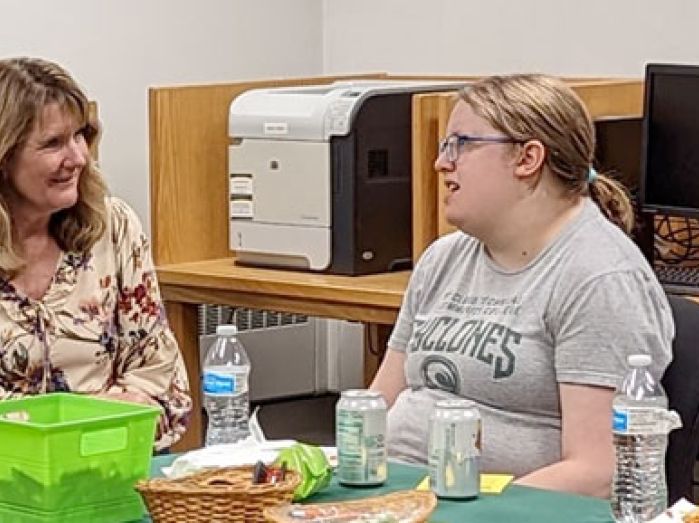 It's like a little family at school. Everybody's uplifting each other. - Nia
By Kate Wallace
The TRIO Student Support Services program at SCTCC is celebrating 25 years. TRIO is a federally funded grant that is open for applications from students who are first-generation, income eligible, or who have disabilities. The program provides tutoring, advising, help with financial aid, and activities and events, all within a student community that understands each other's problems and triumphs.
While it's the mission of TRIO to provide support for students' academic and personal growth, to students in the program, it's much more than that. The word that comes up again and again when you chat with TRIO students? Community.
Nia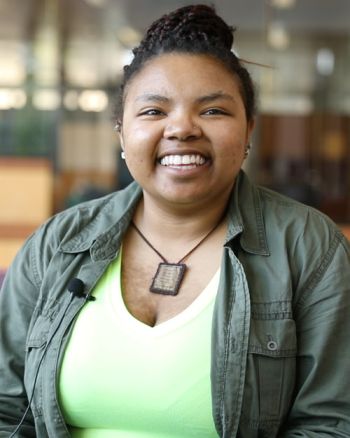 "It's like a little family at school. Everybody's uplifting each other," said Nia Williams, who is working on an AA degree.
Nia graduated from St. Cloud Tech High School through the ALC. "I popped into TRIO and they were so welcoming. I signed up that day."
Nia knows she would not do as well in college if not for TRIO. She dropped out of college, then came back and is now on track to transfer to a university out of state to get a degree in criminal justice with plans to be a lawyer.
Nasteho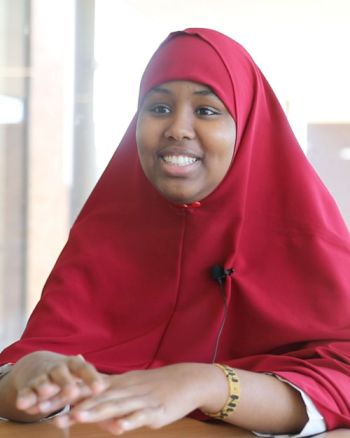 Nasteho Ali came to SCTCC right after graduating from St. Cloud Tech High School and is working on her pre-requisites to get into Dental Hygiene. She's hoping to apply to the program next year.
Nasteho met Steve Nusbaum, a TRIO advisor, while attending the TRIO Summer Institute, a program that helps students increase their Accuplacer scores. Steve introduced SCTCC services to the group in the institute, including TRIO.
"I used to feel nervous about college, but when he introduced us, I felt like it was so easy," said Nasteho. She was worried about coming to college as a first-generation student, but "I feel like I have a home every time I need help."
Like several students who are members of TRIO, Nasteho also works for TRIO as an office assistant.
Amelia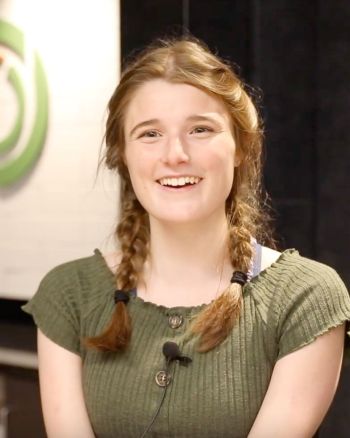 Amelia Degen is keeping SCTCC in the family.
Growing up, she came to SCTCC with her parents, who were instructors here, and she "fell in love with the campus." While she was on a tour for SCTCC, she learned about TRIO and filled out an application.
"The people are helpful and really kind," she said about everyone in TRIO. No surprise that her favorite thing about TRIO is the people; she's made a lot of friends, including her best friend Abby.
Now she's finishing up her AA to become an occupational therapist, and her words of advice for anyone coming to SCTCC?
"Don't procrastinate, and enjoy your time here."
Riley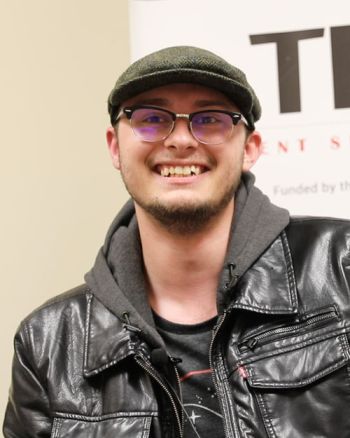 Riley Briekos is another member who works at TRIO as a tutor; he started as a math tutor, but that has evolved into tutoring more on the English and writing side.
"College would be a little bit harder without TRIO," Riley explained. "But it's really the people I need to talk to, the community I need to share it. My grades would be fine, but I'd have a harder time moving through college because I wouldn't have anyone."
Community is the most important part of TRIO to Riley. He grew up moving around quite a bit and didn't have many friends. "Being a part of baseline community helps keep my mood up."
Riley is in the Psychology Transfer Pathway with the plan to transfer to SCSU for a double major in Psychology and Philosophy. Because of experiences in his childhood, he wants to know the motives and parts of a brain that allow people to abuse children and to help someone move out of that pattern or prevent it from happening. Ultimately his plan is to earn a doctorate and teach. "Even after I'm gone, I want to make sure that words that are written down or things I've taught that will continue without me."
Heather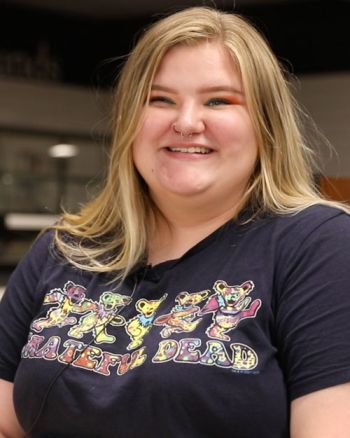 Heather Nulf became a TRIO tutor for Marketing & Design after the Northway Group got a request from TRIO for design work. She was recommended to help on the project, and then she looked at the qualifications and thought she'd apply.
In addition to a tutor, Heather is a peer mentor and thrives on helping her TRIO friends create schedules. Her piece of advice for keeping a schedule? "Invest in a planner you enjoy. Something that's fun and can keep you accountable."
Heather never intended to go to college, but she came to St. Cloud from Rosemount to be with her partner, who asked if there was anything at SCTCC she'd like to learn. That pushed Heather to take the step to college, where she was able to apply her love of art to a skill.
"Would I do as well mentally without TRIO?" she asked. "No. My grades would stay the same, but I'd have a lot more stress without TRIO. I have a hard time lowering my expectations for myself. Sometimes it's good to have people give me permission."
She's the first to say that it's ok to come unprepared, but to use the resources available to give yourself a step up. "Don't be afraid to invest in yourself. If you can't make those first investments in yourself, how do you expect anyone else to invest in you."
Abby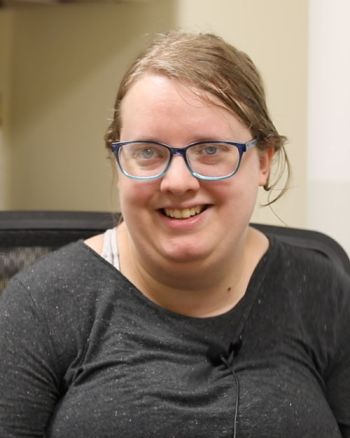 Abby is another local high school grad, having graduated from Sauk Rapids Rice High school. She took a seven-year gap between high school and college, and is appreciative to TRIO for giving her support. "TRIO keeps me motivated, but I have to give credit to myself. There was a 7-year gap between HS and college, so even just coming to college is a big achievement."
Currently Abby is working on her AA by going part time; she's been a member of TRIO since filling out the application at Cyclone Alley in 2019. She's hoping to transfer to the University of Minnesota for an animal science degree to become a cat behaviorist and has already noticed that the animal science major is offered at one of the smaller campuses. The intimate environment and smaller campus was a huge draw when choosing to come to SCTCC.
"I came back from me. I'm doing better in my classes than if I'd come straight out of high school," said Abby. "It's ok to make mistakes. It's ok to have setbacks. It's ok to not get all As. It's even an accomplishment coming back to school. Those who are older or coming from other countries, I really admire them – they are trying so hard to achieve their dreams."
Michael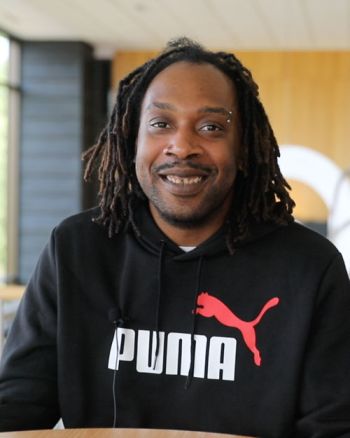 Michael Downer decided it was time to get a college education, and the community at TRIO is one of the reasons he's sticking with it. Michael grew up in Chicago where he dropped out of high school, ran away from home, and started a few different careers before it kicked in that he needed to go to college.
"I was a little self-conscious about this. You know, I'm grown; I should have it all figured out. I'm a grown up."
At 33 years old, he started at SCTCC after relatives encouraged him to move to the St. Cloud area. He's working on a Psychology Transfer Pathway degree with plans to transfer to St. Cloud State for bachelor's and master's degrees, then hopefully will pursue a doctorate.
As a first-generation student, TRIO keeps him accountable. With no one to rely on for college advice or to help direct him on the right path, he knows he can find that in TRIO.
He laughs as he mentions that the snacks are his favorite thing about TRIO, then goes on to say that the tutors compete for grades and keep each other pumped up for good grades. The community in TRIO keeps him excited about education.
"The most helpful thing in TRIO is the fact that I never have to struggle alone," Michael explains. "In college, there are a lot of people who don't realize that you don't have to do it by yourself. That's one of the scariest things in the world, to go through unfamiliar territory alone. At TRIO, there's always a resource and you never have to go through it alone."