Amongst new microscopes and clean beakers, a group of community members, CentraCare representatives, and SCTCC faculty and staff gathered to celebrate the Ribbon Cutting for SCTCC's new Biology Labs.
In 2016, CentraCare donated $500,000 to SCTCC for the renovation of classrooms into additional biology labs. The new labs double the capacity for students to take biology courses, which will increase the number of students qualified to apply to SCTCC's health programs.
"Having state of the art technology, equipment, and facilities will support teaching techniques that make learning more accessible and relevant for more students," said SCTCC President Annesa Cheek. "Our graduates are integral to supporting a strong regional workforce."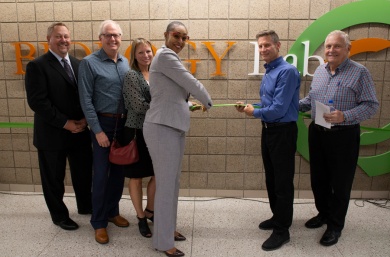 The new labs were available starting fall 2019, and the students already notice a difference. One of the new technology pieces they really appreciate is how instructors can show what they're doing on the multiple TV screens in the room versus students crowding around to try to get a glimpse of what's happening. Cameras installed in the ceiling can focus in on a small space on tables below, then they feed to the screens in high definition.
"It was so hard for the teachers to demonstrate what they were talking about; I always had to try to look over other students to see. Now with the new cameras to physically see from my spot what he's talking about is pretty great," explained student Cassandra Allen.
Another key new technology is the option to show any microscope field of view on the screens. In the past, students took turns looking in a microscope, possibly knocking the slides out of place, moving the microscope out of focus, or missing what's happening under the lens.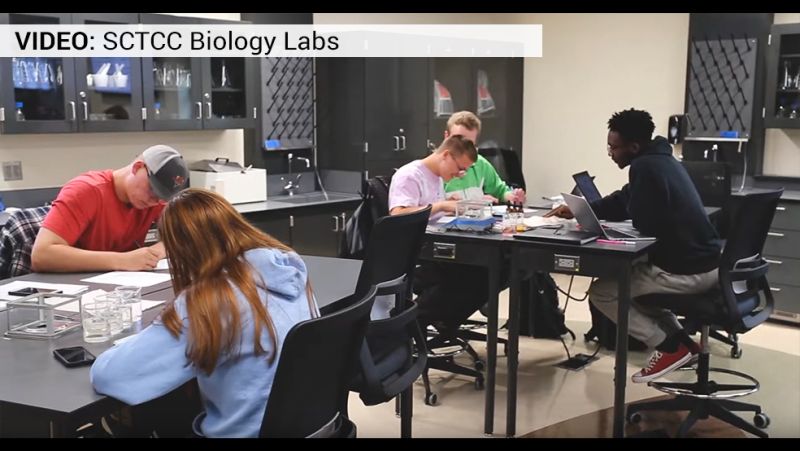 CentraCare's investment in SCTCC is a testament to the College's stream of graduates who get jobs in its healthcare system.
"The work that we [CentraCare] do has several different facets that are relative to our investment in this program…This school is a major source of talented people who take care of their neighbors, and their friends, and their relatives," said Dr. Ken Holman, President/CEO of CentraCare, at the Ribbon Cutting.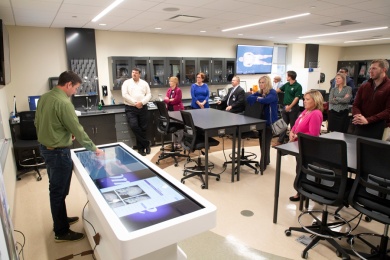 After the ribbon was cut, guests took a tour of a biology class that was in session, checking out what students were doing and seeing the lab in action. Next, instructor Mark Gucinski demonstrated the Anatomage Table, which was one of the most-anticipated pieces of technology in the new labs. The table allows students to virtually dissect 3D cadavers with real, accurate anatomy, with the options to zoom in, move around, and remove layers.
Staying up-to-date with new technology is key in the healthcare industry, and with the new labs, SCTCC students prepare for their future classes and careers, thanks to CentraCare and its generous donation.
"The partnership between CentraCare and SCTCC is not just a win for our college and CentraCare, but for our students and the entire community," emphasized President Cheek.