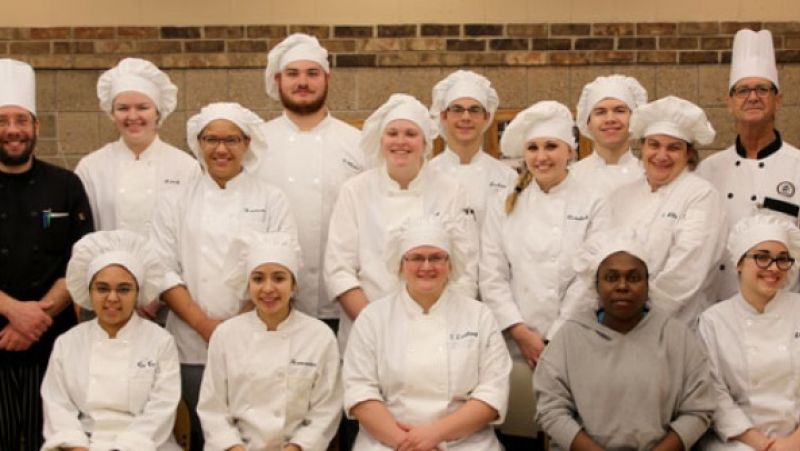 SCTCC's second annual BrewLäsh brought more people together and more fundraising for student equipment and scholarship needs. And it offered some pretty good hotdish and craft brew selections, too.
Foundation Director Arlene Williams was more than pleased with the results.
"BrewLäsh is an opportunity for the Foundation to bring together so many elements of what makes SCTCC a wonderful place. Industry Partners are supporting the programs and students they need to have a strong workforce; faculty and staff at the college put in more than 250 volunteer hours to raise money for the students they work with every day; and Culinary students use the skills they learn at SCTCC to create the food that brings it all together in one of Central MN's nicest 'Garages'. It's relaxed, delicious, and FUN!"
The 2018 BrewLäsh was held in SCTCC's Medium/Heavy Truck and Auto Body labs with 10 tasting tents and six fund-a-need opportunities in six program areas: Transportation; Construction; Health Sciences; Business, IT & Education; and Liberal Arts.
Once again, the highlight of the event was the hotdish creations made by SCTCC Culinary students, led by Chef Jay Thomas. Hotdishes included Kicked Up Tater Tot, Philly Cheesesteak, Chicken Wild Rice, and Chili Mac. Guests were able to vote for their favorite hotdish after taste-testing.
The winning hotdish was Hashbrown Taco, created by CeCe Brooks and Hannah Mondloch. They each received a scholarship from the SCTCC Foundation. Honorable mention goes to Philly Cheesesteak, which missed first place by four votes. Philly Cheesesteak was the creation of Logan Holthaus and Alyssa Leopold.
"The students worked hard to make their hotdishes for this event but had a lot of fun doing it," said Chef Jay Thomas. "It's nice to be able to incorporate curriculum into a fun event."
More than 300 people attended this year's BrewLäsh. The silent auction contributed $2,725 toward the $32,000+ raised to support student classroom equipment needs and student scholarships. The Foundation is already planning its third annual BrewLäsh with sights set to make it even more successful.