SCTCC has designated Accessibility Services as the determining body for student accommodations. All students who have accommodation plans are qualified students with a disability and have been approved for the accommodations listed by Accessibility Services.
Often, instructors are concerned about fairness and equality in the classroom so having students with accommodations can feel like an "unfair" or like inequality, but we would like to assure you that accommodations do not give students an unfair advantage. Accommodations are granted as a form of equity, a method which allocates the exact resources a student needs to access the class content and demonstrate knowledge at the same level as their peers. Accommodations do not compromise the essential elements of the course, nor do they weaken the academic standards or integrity of the course.
Please keep in mind that while many accommodations can be applied to the entire class to promote a universally designed class, some accommodations should not be applied to everyone.

For example, if you were to give every student the option to present either to the class or one on one with the instructor, that would be a universally designed class structure.
However, if you were to give every student double time on exams, that is not giving the student with the accommodation their equitable time. Should you give the other students double time, the student's accommodation would then allow them for quadruple time (since the accommodation is for double the time the rest of the class is allocated). The universal design for exams would be to have no time restriction.
Accommodations should be implemented as soon as they are received by the faculty member. Accommodations will typically be sent out around the first week of class, however accommodation plans can be sent in at any time. It is the shared responsibility of both faculty, student, and Accessibility Services to make sure accommodations are implemented promptly.
Accommodations are a federally protected right of students with disabilities and as such, faculty are required to implement accommodations once they are notified by the student. Denial of accommodations could be considered a violation of a student's civil rights. Colleges and universities cannot discriminate against qualified people with disabilities in recruitment, admission, or treatment after admission. If there is any question or concern regarding the student's accommodation plan, please contact Accessibility Services, acc@sctcc.edu, 320-308-5064, or Office 1-454.
Faculty do not need to worry about student eligibility for accommodations nor should they expect to be given any diagnostic information. It is the responsibility of Accessibility Services to evaluate and approve/deny students for accommodations.
Yes. Students' accommodations are federally protected rights, and it is the shared responsibility of both faculty, student, and Accessibility Services to make sure accommodations are implemented promptly.
When a student is testing with our office, we are mindful of monitoring for academic dishonesty (cheating) on exams. If a case of academic dishonesty is suspected in our office, the following procedure is enacted. Accessibility Services staff will immediately stop the exam, the incident will be documented, and then the instructor will be notified via email about the incident. All materials our staff collects in relation to this concern (the exam, any notes, scratch paper, etc.) will be sent to the instructor as well.
It is not the role of Accessibility Services to decide the next steps for a student who is suspected of academic dishonesty. It is up to the discretion of the instructor what steps should be taken in each student's case.
If an instructor has a concern that a student cheated, but wasn't caught, please contact the Accessibility Services Accommodation Specialist at acc@sctcc.edu to discuss.
Accommodations that are listed as temporary are only applicable during the semester they were approved. The date a student was approved is located on the upper right of their plan. If the student is within that semester timeframe, please provide the accommodations as you would for any other student with accommodations.
However, if a student has an outdated plan, please encourage them to reconnect with Accessibility Services if they would like to discuss renewing their temporary plan. You do not need to accommodate an outdated temporary accommodation plan.
For clarity, average, non-temporary, accommodation plans do not "expire" and should be followed regardless of date on the plan. If you have a concern about a student's plan because of the date listed, please encourage them to connect with Accessibility Services to update their plan.
Students are not required to share the nature of their disability or any other private information with the faculty. However, Accessibility Services encourages faculty to be supportive and mindful of the students coming to you to implement their accommodations. Your reaction to their request can be a strong determining factor to how much they are willing to share with you and how likely they are to ask for help in the future.
Yes. Accommodations are a federally protected right of students with disabilities and are not optional to implement.
If an instructor has a concern that an accommodation would fundamentally alter their course, they can bring their concern to the Accessibility Services Coordinator. Instructors cannot deny a student any accommodations without first connecting with the Accessibility Services Coordinator. Accessibility Services will work collaboratively with both parties to ensure an equitable outcome.
As the instructor of the course, the faculty member can provide classroom supports to students without accommodation plans. It is important that if the instructor is giving out supports to a student without an accommodation plan, that they give that same opportunity to each of their students without an accommodation plan.
Accessibility Services encourages the use of Universal Design in courses as that removes the need for many common accommodations.
Students should be made aware of upcoming field trips, practicums, and internships with enough notice to arrange accommodations. The accommodations to be made will depend on the job requirements, destinations, and the disabilities involved. We advise faculty and staff to contact Accessibility Services as soon as field trips, practicums and internships are established.
Students with disabilities that impact mobility should not be penalized if they are unable to attend a field trip. If you have a concern about this, please contact Accessibility Services.
Students with disabilities should be held to the same standard as any other student in the class. Connect with the student to discuss their grade as you would with any other student. You are always welcome to connect with Accessibility Services to consult about the situation.
Students with disabilities that impact their reading, concentration, or information processing may receive an accommodation for their course reading materials (textbooks, handouts, syllabi, lab manuals) to be in an accessible format. Formats include Braille, large print, audio, or e-text. Advanced planning is essential in the provision of alternate format print materials. Depending upon the format, it can take up to 3+ months for an alternative text to arrive.
No, the Accessibility Services Testing Center is available to meet any testing accommodation requirement. However, if you would prefer to proctor the exam yourself and are prepared to meet the student's accommodations and maintain confidentiality, you are more than welcome to provide the accommodations yourself.
If a student in your class requests a note taker, Accessibility Services will be in contact with you via email. If you get an email from us requesting that you take time out of the next upcoming class to announce to the class that Accessibility Services is looking for a note taker for your class. This announcement can be made in person, over Zoom, or on D2L. We ask that if you have any volunteers that you direct them to contact our office to sign up (320-308-5757, acc@sctcc.edu, Office 1-452).
Accessibility Services utilizes a holistic and equitable approach to supporting disabled students and making accommodation determinations. In order to achieve this, we no longer require documentation to be submitted as a part of our Application for Services, however we may still request it at any time during the process. In our process of determining accommodations, we focus on the quality of the evidence the student provides rather than the category of the evidence.
Any student with an approved accommodation plan are seen as qualified students with a disability and their accommodations should be implemented.
Contact Us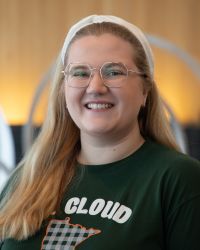 Accessibility Coordinator