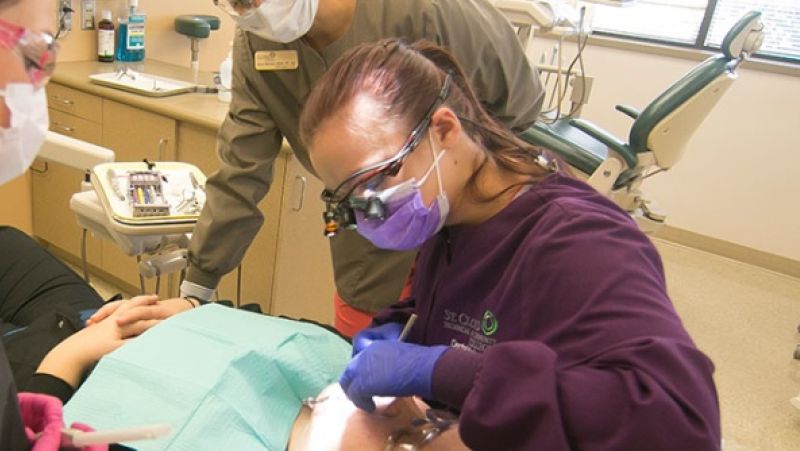 Thinking about a new career can be exciting, especially if you're planning on going back to college to learn a new skill. If you're considering a change and want to come to St. Cloud Technical & Community College to further your education, here are a few things to think about along the way.
What does the job outlook look like right now?
In Minnesota, many of the fastest growing careers are health related: home health aides, nurse practitioners, physical therapists. Many health-related careers are projected to grow by the year 2024, especially with an aging population.
There is also a need for machine tool operators, web developers, mechanics, any field in construction, programmers, and so much more. The skilled trades are seeing more and more people retire, which means there are many job openings. The good news is that a degree in a skilled trade can take two years or less to complete, meaning you're out in the work force sooner.
Want to see a comprehensive list of fast-growing careers? Check out Careerwise.
How long do I want to be in college?
This question opens the door to a lot of other questions: do you plan on attending full time or part time? Can you handle online classes and want to do an online program? How soon do you need to be out in the workforce?
The 2-year colleges in Minnesota have many degree options. For example, at SCTCC you can finish a Finance AAS degree completely online in two years if you take 15 credits a semester. Perhaps you want to go into IT, but you don't want to spend much time in college—a PC Specialist diploma is 32 credits, which you can finish in two semesters, and you can be out working in less than a year. Another quick option with a hands-on career is a Welding diploma, which you can also finish in two semesters. Check out what programs SCTCC offers!
One thing to consider if you're thinking of a career in the health field is that many colleges' health programs have pre-requisites to complete before applying to the programs, and acceptance is highly competitive. If you plan on going into a health career, plan on at least a year of pre-requisites, and it's a good idea to apply to a couple programs you're interested in just so you have a back-up plan.
(This is a good time to mention that college Advisors are GREAT resources and can help you figure out all this stuff. Once you're a student, you can get all the help you need figuring out your educational path.)
How much money can I make?
The big question on everyone's mind is how much can I really make with a two-year degree? Well, it turns out, quite a bit!
Land Surveyors/Civil Engineers: $35,000-80,000/year

Dental Hygienists: $65,000-94,000/year

Mechanical Designers: $42,000-93,000/year

Powerhouse Electrical & Electronics Repairers (Energy & Electronics): $84,000-128,000/year*
*Salaries are 10th-90th percentile for Minnesota and pulled on 10-20-2021.
To find more average wages for jobs in Minnesota, Careerwise has a handy search tool.
What if I want to get a bachelor's degree?
If you plan on getting a bachelor's degree, why not start at a community college to get your generals done at a lower cost? Minnesota State college credits will transfer to any Minnesota State university, and your Advisor can help make sure you take classes that will fully transfer to other non-Minnesota State universities.
Students who take this track love that the classes are small and the instructors are accommodating. Some AA/transfer degrees are also available completely online if that's the route you want to choose. Combine that with the money you're saving, and why wouldn't you start at a community college?
I have some credits already. Will they transfer?
If you've earned college credits previously, you should definitely check to see if any of them transfer when you go back for your next degree. Make sure to get an official transcript from any previous colleges sent to your new college, where your credits will be evaluated.
Some colleges even give you Credit for Prior Learning, which means that your work and life experiences may translate into college credit. Ask your advisor or even the college Registrar office if this is available.
But what do I want to do?
Pay is great, job outlook is great, but what does all that mean if you don't enjoy what you do? Make sure the career you choose is one that you want to do, whether it's your passion, your calling, or something you just love doing.
If you aren't sure what career path you want to pursue, check out our Career & Program Finder. You can take assessments and then look at all your interests and how they can apply to a career. We recommend job shadowing and attending Info Sessions of some of the programs you're interested in.
Take some time to consider all the questions above and how they apply to you: job outlook, earning potential, what it is that you really want to do. Going back to college doesn't need to be a scary experience, especially with a well-thought-out plan and clear path.
Are you ready to take the next steps?