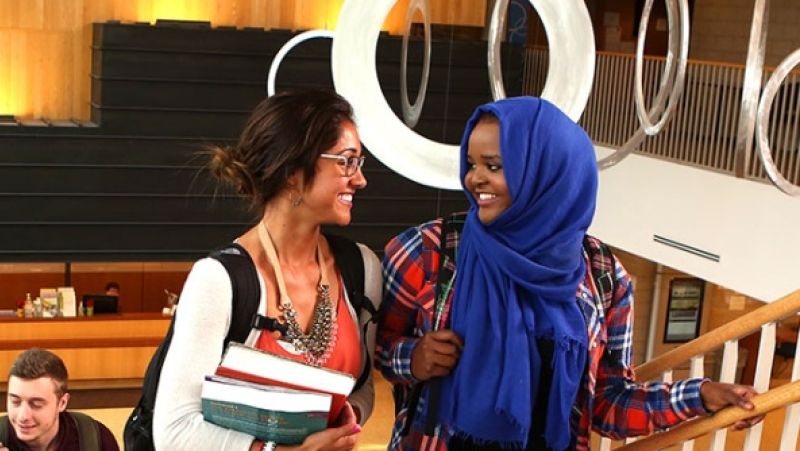 Center for Academic Success
The CAS is SCTCC's tutoring center. We have tutors that can help you with math, natural sciences, behavioral sciences, communications, writing, English, business/IT, and various other subjects.
But wait – you? Need tutoring? Here's the facts: students who seek out tutoring on a subject get a better understanding of course materials. And this can lead to better grades! Even if you're not struggling, you can benefit from going over materials with someone else.
Stop by 1-112 to check out how the CAS tutors can help you.
Success Skills Workshops
Feeling stressed out? Not sure if you're studying the best you can? The Success Skills program hosts workshops each semester that focus on skills that can help you out while you're a student here. Some of the topics? Test anxiety, stress reduction, technology 101, and goal setting, to name a few. Watch their website, the kiosks, or SCTCC's social media for dates and times of the workshops.
http://www.sctcc.edu/success-skills
Wellness Resource Services
SCTCC's Wellness Resource Services provide non-academic support and short-term mental health services to help improve personal wellness and academic success. If you are struggling in anyway, please contact us. We are here to help!
https://www.sctcc.edu/wellness-resource-services
Child Care assistance
Got kids? You've got your hands full with being a parent AND going to school! We are here to help. Minnesota residents within certain income limits are eligible for a Post Secondary Child Care Grant. For more information on the grant and to apply, contact Financial Services – 320-308-5961 or email abaugh@sctcc.edu.
Scholarships
The SCTCC Foundation awards scholarships to more than 200 SCTCC students every year, and that could be YOU. You'd be surprised at what scholarships you qualify for – why not apply and find out? The only thing standing between you and some cash for tuition or books is your application.
http://www.sctcc.edu/scholarships
Wi-Fi Password
Let's get down to business. This is the first thing everyone wants to know!
Network: SCTCC Wireless
Password: cyclones
Open Computer Lab
SCTCC has open computer labs available to all students. Be prepared to keep food and drinks off the desks and your cell phones on silent/vibrate.
View all computer lab hours at https://www.sctcc.edu/computer-labs
More info on all the technology services at SCTCC: http://www.sctcc.edu/technology-services
Star Alert
Be the first to know about a snow day! Sign up for Star Alert, and you can get alerts via text message when campus is closed. All students will get an email sent to their school email, but a text is the quickest way to know if SCTCC is closed.
https://sctcc.bbcportal.com/ (sign up here)
http://www.sctcc.edu/star-alert (instructions on how to sign up)
YMCA Membership
With your student ID comes great responsibility. Responsibility to use a free membership (after the joiner fee) at the YMCA that just across the street! Students just pay a one-time $135 fee, and membership is free through the academic year. A half-year membership from January-May is also available for $85.
Bus Fare
No more circling for a parking spot. No more scraping the windshield. And some extra time for texting your bff. Kick the car to the curb! Use your student status to get a free ride on Metro Bus. Just swipe your student ID on the bus, and you can go anywhere in the St. Cloud area.
Movie Passes
First, Tuesdays are $5 movie night at Parkwood Cinema in Waite Park (totally on the bus line). Second, Thursdays are $5 student nights (just bring your ID). And then, if you still need some cheap movie passes, you can get two for $12 every 45 days. Available at the Bookstore.
Job Fair
When you're ready to graduate and haven't gotten that dream job yet, Career Services is here to help you out. The SCTCC Job Fair is one of the largest job fairs in the area. Every spring semester, we bring in more than 160 employers that are ready to hire our grads. The Job Fair is at River's Edge Convention Center, and there are regular shuttles from SCTCC to River's Edge: this couldn't be easier! Watch for more information on the Job Fair in early spring semester.
Career Services
More good news on the job front: as an SCTCC grad, you can use Career Services as long as you need them – graduated 10 years ago and need some resume tips? You can stop by and have it reviewed. Job listings are also available to all current students and graduates. Stop by Career Services to get the login information for the job listings.
http://www.sctcc.edu/career-services
Mental Health Services
Your wellness is important to us! We are here to provide free mental health services to students dealing with a variety of life issues.
https://www.sctcc.edu/mental-health-services
Multicultural Center
Would you like a place to learn about the various cultures and people that make up SCTCC? Visit our Multicultural Center! The MCC is a place to celebrate and recognize our differences and commonalities; to explore our identities; recognize and honor our heritage.
https://www.sctcc.edu/multicultural-center
Athletics
Let's go Cyclones! SCTCC has five sports: baseball, men's basketball, women's basketball, softball, and volleyball.
Looking to join the team? Our athletics site has some more info on recruiting.
Looking to cheer on the team? The Cyclones play at the Whitney Center (basketball and volleyball), Dick Putz Field (baseball), and River's Edge Park (softball). All SCTCC students get in free with their IDs.
Just In Time Grants
If you're in a financial bind, talk to your instructor, advisor, or other trusted SCTCC staff about funds that are available for emergencies. Random Acts of Kindness and the Hope grant are two of the options for these emergency grants.
Auto Work
The SCTCC Automotives and Auto Body programs offer low-cost auto repair.  Stop by the Automotives or Auto Body labs for more information.
Dental Clinic 
The SCTCC Dental Clinic offers low-cost preventative services.  
https://www.sctcc.edu/dental-clinic
Cyclone Cupboard
Cyclones Cupboard provides FREE nutritious, non-perishable food options to students to help support their health, learning, and success. All SCTCC students are welcome and have access to the Cyclones Cupboard.
https://www.sctcc.edu/cyclones-cupboard-food-pantry
Free Microsoft Office
While you're a student, you can download MS office to your computer. 
Download and Install Instructions