Advocacy | Connection | Leadership | Transformation  
SCTCC is a diverse, multicultural, multilingual, multi-abled, multigendered, multigenerational and global community. We embrace diverse perspectives and experiences of race, class, gender, and where they meet.
We provide the education, training, and support necessary for equitable participation in our society, economy, and democracy. We embrace diverse perspectives and experiences of race, class, gender, and their intersections.
"The College has 8 shared beliefs that together, help set expectations and establish norms for how we will work together to advance our mission and achieve our vision. This Center is just one way we are holding ourselves accountable for living our shared beliefs. This center is an example of how we walk the talk," says Annesa Cheek, SCTCC President.
About the Center
The Center's mission is to foster social equity through:
Programming and experiences that recognize cultural knowledge
Increasing multicultural and intercultural communication skills
Providing social justice and global education
Fostering local and global leadership opportunities
Establishing interventions for faculty, staff, and students as they navigate predominantly white academic spaces
Advocating to transform academic environments to honor all the contributions, narratives, and stories our communities hold
MCC Blog
On Wednesday, May 10, SCTCC students, faculty, and staff gathered in the Commons to celebrate students and others who have made a difference during their time at the College. The Cyclones...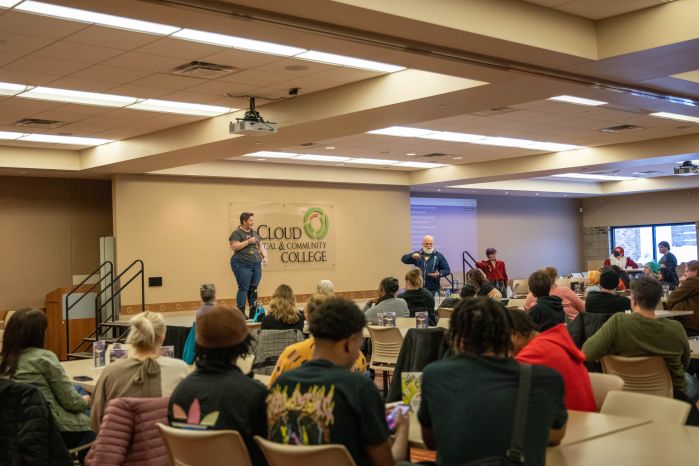 On March 16th, the Cyclones Pride Club along with the SCSU Drag Troupe hosted a drag show in the SCTCC Commons. Attendees enjoyed a high energy show with multiple performers dancing and l...

SCTCC instructor Dr. Sangeeta Jha was honored with the MLK Community Celebration 2023 Humanitarian Award on Monday, Jan. 16. Jha was recognized for outstanding community contributions and...
Upcoming Events
There aren't any events with the criteria chosen.