Upcoming MCC Events
If you need disability related accommodations to make these events accessible, please contact Accessibility Services at 320-308-5064. TTY users may call MN Relay Service at 711 to contact the college.
12.6.23 11:30am
Northway 1-313: Multicultural Center
Fall 2022 Multicultural Center Series
Using the Multicultural Center
The Multicultural Center is now taking reservation requests. If you would like to host your club meeting once a month in the center or host your weekly meetings, contact Njeri Clement at multiculturalcenter@sctcc.edu. We are open to working with students who are not a part of a club to host programs on identity, social justice, equity and inclusion.
Meeting Resources
The center has a monitor and access to a sound system.
If a group needs other audio visuals, the group organizer will need to make their own audio request from IT.
Everything in the center is on wheels and moveable. The space should easily adjust to meet your needs.
If food or drinks will be used in the space during an event, we ask that all guests help maintain a clean and healthy environment by disposing of all waste and recyclables.
Food arrangements must be made through Becky at Consolidated Food Management Services. Cmco66@consolidatedmgmt.com
The Multicultural Center organizes cultural identity-based graduation events for graduating students to celebrate their culture and recognize the accomplishments of the graduating class. We invite you to participate in the Latinx, African, and African American, Asian, Pacific Islander, Middle Eastern, and Native American and other cultural graduation ceremonies. For more information contact multiculturalcenter@sctcc.edu.
Media & Resources
Check out the below podcasts to hear from diverse voices and learn how you can advocate for change.
Want to learn about something specific or have an article, podcast, or other item that could be listed?
Email multiculturalcenter@sctcc.edu with your suggestions.
Multicultural Grand Opening
On Wednesday, Nov. 10, the grand opening took place in its new location, Northway Building room 1-313, with Pres. Cheek, SCTCC students, and the mayor of St. Cloud making remarks on the history and necessity of the Center for SCTCC. Vice President of Cultural Fluency, Equity, and Inclusion, Debra Leigh, emceed. The event was livestreamed from the Center.
"Human beings are social creatures, and we all have a fundamental motivation to be accepted into relationships with others and be part of social groups," said SCTCC Pres. Cheek. "The need to feel a sense of belonging is something we all share. It is part of being human. The SCTCC Multicultural Center is our college's recognition and acknowledgement of everyone's need to belong. It is a clear indication, a shining signal, and tangible evidence that everyone is welcome at SCTCC."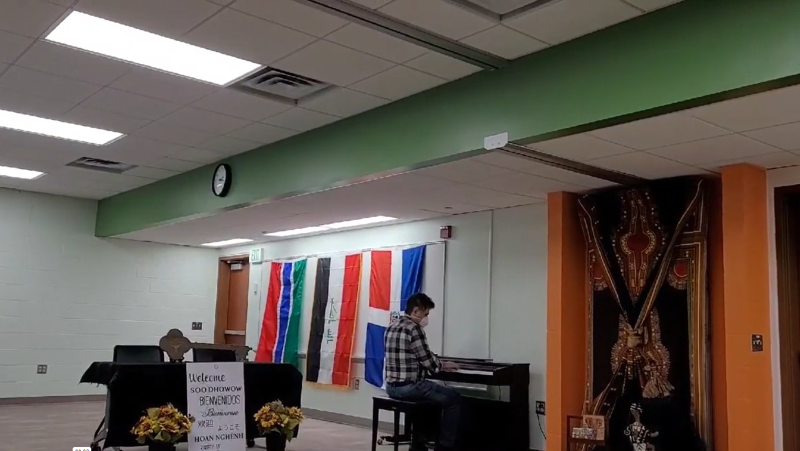 MCC News & Blog
On Wednesday, May 10, SCTCC students, faculty, and staff gathered in the Commons to celebrate students and others who have made a difference during their time at the College. The Cyclones Celebration...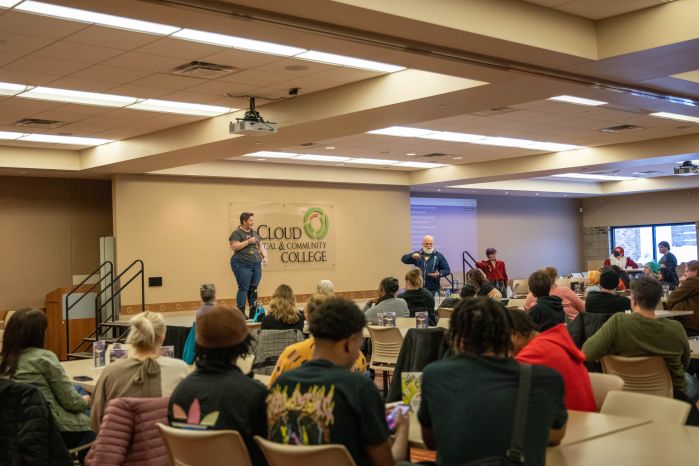 On March 16th, the Cyclones Pride Club along with the SCSU Drag Troupe hosted a drag show in the SCTCC Commons. Attendees enjoyed a high energy show with multiple performers dancing and lip syncing...

SCTCC instructor Dr. Sangeeta Jha was honored with the MLK Community Celebration 2023 Humanitarian Award on Monday, Jan. 16. Jha was recognized for outstanding community contributions and service for...