Transcripts
A transcript is a chronological listing of a student's courses, grades, GPA, transfer credit totals, and degree(s).
Official transcripts are the certified statement of your academic record. Official transcripts bear the Registrar's signature and are printed/formatted using security features. Electronically submitted transcripts may be accepted, depending on the acceptance requirements of the receiving institution/organization. Official transcripts can be ordered using the Online Order request and sent to the designated email by the receiving institution.
Unofficial transcripts do not include the signature of the Registrar or have security features of authenticity. Unofficial transcripts are not a certified version of a student's academic record.
---
Unofficial Transcripts
These are obtained online by the student and does not include the signature of the Registrar or security features. If sending to a third party, please verify if an unofficial transcript is acceptable for submission. A faxed transcript is considered unofficial.
Has it been a while since you attended and can't remember your login information?
You can email a request for a copy of your unofficial transcript:
Complete and sign the Unofficial Transcript request form and submit it to the Records and Registration office at SCTCC. 
StarID and Password is Known:
You can view your unofficial transcript online by:
Go to the eServices Sign-In.
Enter your StarID and Password (click in the box to the right of the display name if you wish to have your name appear when printing your transcript). Click on "Login".
Click on Academic Records then click on Unofficial Transcript (left column).
Choose Chronological and click on "Get Academic Record". Your unofficial transcript will be displayed.
If you wish to print this information, please use the print feature associated with your web browser.
---
Official Transcripts
Official transcripts requested via mail are mailed in envelopes with the imprint "Official Transcript Enclosed". A student who has a mailed copy sent to them are advised to keep the envelope sealed to keep the copy official. Official transcripts requested electronically are sent directly from the College to the requested third party. Note: official transcripts should not be requested to be sent electronically to the student. Requests for official transcripts are usually processed within two-three business days of receiving a correctly completed request.
ATTENTION! DO NOT use the online transcript ordering option if you need an official SCTCC transcript sent to a Minnesota State College or University. That institution may be able to obtain your SCTCC transcript free of charge. Please contact that institution directly for further information.
If you need an official SCTCC transcript sent to any of the University of Minnesota campuses or any other school, please choose one of the options listed below.
National Student Clearinghouse is authorized to provide St. Cloud Technical & Community College's online transcript ordering service. This service provides students with timely notices regarding their transcript request as well as order status history.
Individuals who have both a major credit card and a valid email address can request an official transcript through this service. Credit cards will be charged only after orders have been processed.
The cost of an official St. Cloud Technical & Community College transcript ordered from the National Student Clearinghouse is $5.00 per transcript plus an additional $2.50 processing fee for a total of $7.50 per transcript. The cost of an official St. Cloud Technical & Community College transcript emailed to a recipient (electronic pdf delivery) is $5.00 per transcript plus a $4.25 processing fee for a total of $9.25 per transcript.
Complete the Transcript Request Form  (PDF) and submit to:
Records and Registration Office
St. Cloud Technical and Community College
1540 Northway Drive.
St. Cloud, MN 56303
Payment
Make checks or money orders payable to St. Cloud Technical & Community College.
Requests will not be processed without payment.
Transcripts requested directly from SCTCC have a fee of $10.00.
If you currently have outstanding financial obligations to the College, your transcript request will be returned to you.
A Note about Minnesota REAL ID:
If requesting an official transcript for the purpose of documentation of address for the Minnesota REAL ID, please indicate as such during your order or call us after you submit your order. A student's address does not print by default on official transcripts. Please contact the Minnesota Dept. of Public Safety for any questions about the MN REAL ID documentation requirements.
---
Questions regarding SCTCC transcript requests?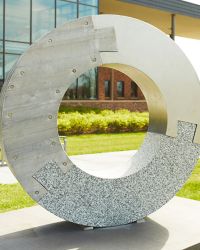 1540 Northway Drive
St. Cloud, MN 56303