DEGREES IN
Auto Body Collision Technology
Why Choose This Program
Students in the SCTCC Auto Body Collision Technology program learn a variety of skills and work with new technologies to prepare for a career as a Collision Repair Technician.
In SCTCC classrooms, students will work with high strength steels, plastics, aluminum, and the latest in paint technologies. We train our students with a Virtual Paint System to prepare for spraying with today's HVLP paint guns and waterborne paints.
Students can expect to learn fundamental repair skills such as metal straightening, body filler application, and sanding of different substrates. In the auto body collision technology program, students will also experience mild and high strength steel welding using MIG welding standards set by the industry.
Placement rate from self-reported data of employment in field of study up to one year post graduation. Wage data is from Minnesota Dept. of Employment and Economic Development (DEED).
From Degree to Career
When you choose the Auto Body program at SCTCC, you'll gain skills that will directly transfer to the workplace. There are many employers, both in the St. Cloud area and elsewhere that are ready to hire employees from all areas of collision repair technology, from technicians and painters, to estimators and accountants.
At SCTCC, we equip our students with skills necessary for the workforce. After graduation, students can administer nonstructural and structural repairs, refinishing, welding, and aluminum repair.
Our students even learn skills in plastic repair, estimating, basic electrical and mechanic workings, and uni-body and frame repairs. With the abilities taught in SCTCC classrooms, our graduates are certain to succeed.
Quick Glance
Nonstructural/ Structural Repairs
Refinishing
Welding
Aluminum Repair
Plastic Repair
Estimating
Basic Electrical and Mechanical
Unibody & Frame Repair

View all program learner outcomes
Types of Careers
With a degree from the auto body collision technology program, students have various career opportunities after graduation. Our graduates have worked as body, refinish, glass, prep, and frame technicians.
Students have even found careers as estimators, detailers, sales representatives, insurance adjusters, and industrial painters.
A day in the life of an SCTCC graduate often looks like working for a leading automotive dealer body shop as body technician. By utilizing the skills taught at SCTCC, graduates are bound to excel in any career path they choose.
Potential Employers
The skills we equip students with at SCTCC make them highly employable. Students have found jobs with independent collision facilities, whole sale suppliers, and automotive dealer body shops.
Our graduates have even found employers with industry sales representatives, insurance companies, and manufacturing plants. With so many career areas hiring auto body collision technician graduates, SCTCC students can find a career path right for them.
Quick Glance
Types of Careers
Body Technician
Refinish Technician
Glass Technician
Prep Technician
Frame Technician
Estimator
Detailer
Sales Representative
Insurance Adjuster
Industrial Painter
Potential Employers
Automotive Dealer Body Shops
Independent Collision Facilities
Wholesale Supplier
Industry Sales Representatives
Insurance Companies
Manufacturing Plants
From Miller Auto Body, Buffalo Collision, and Jeff's Body Shop, SCTCC graduates have found jobs with a variety of local body shops. Our students have also worked with St. Cloud Collision Center, Granite Falls Coating, D & B Autobody, County of Stearns, and even CMS Autobody.
Quick Glance
Miller Auto Body
Buffalo Collision
Jeff's Body Shop
St. Cloud Collision Center
Granite Falls Coating
D & B Autobody
County of Stearns
CMS Autobody
 NATEF accreditation (ASE) 
ASE Student Certification 
I-CAR Student Certification 
Affiliations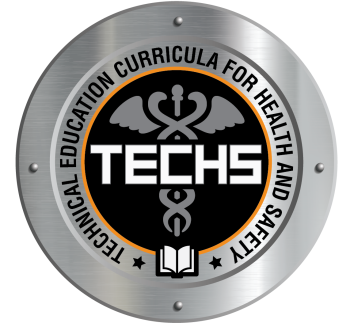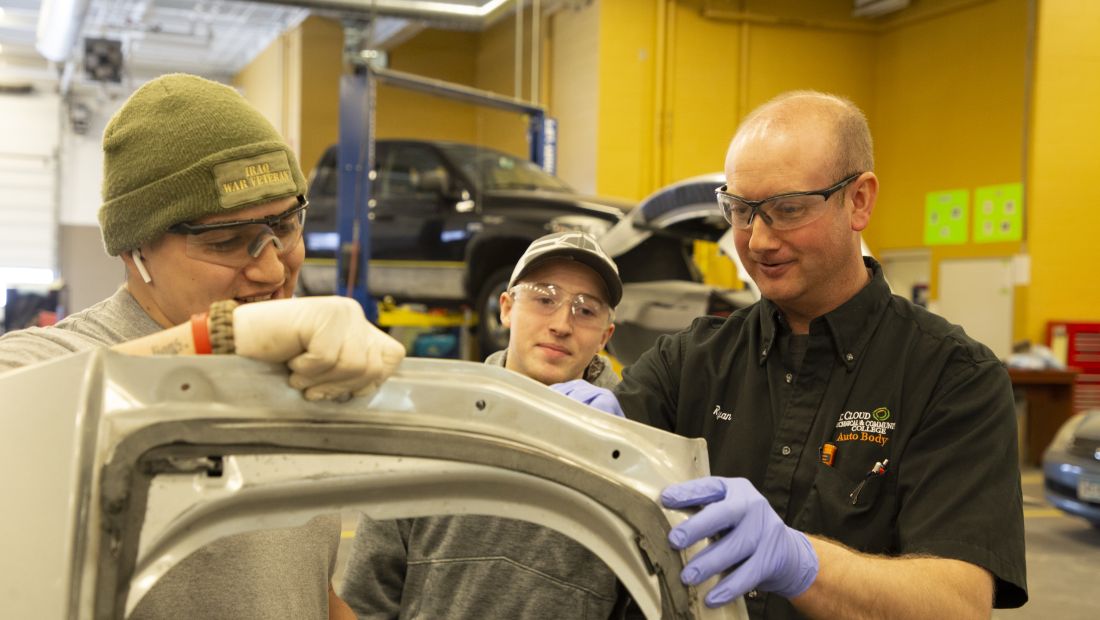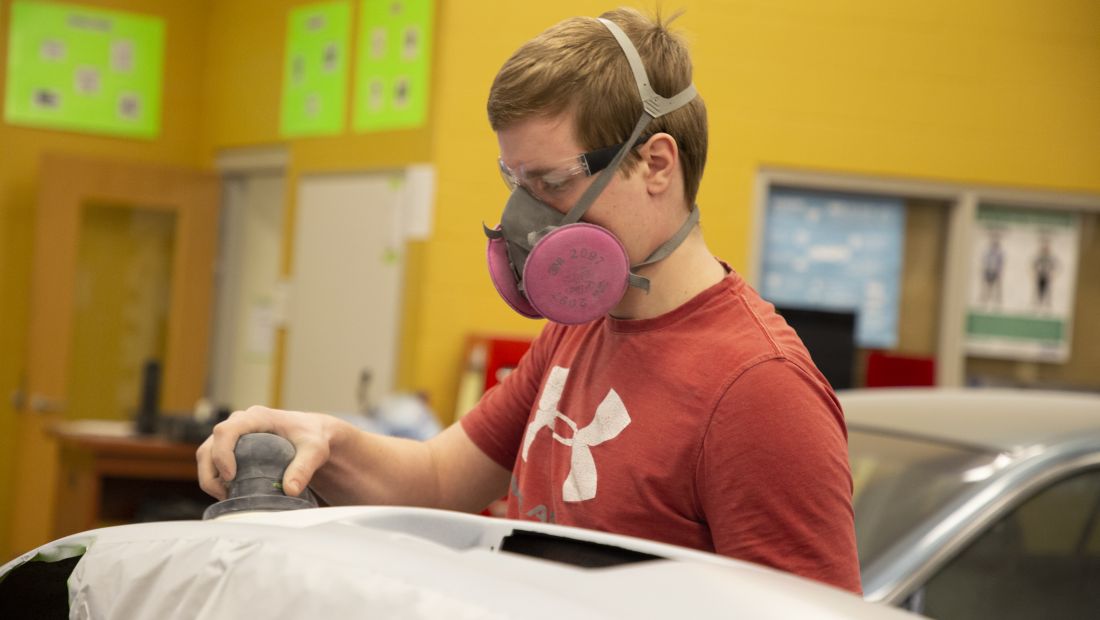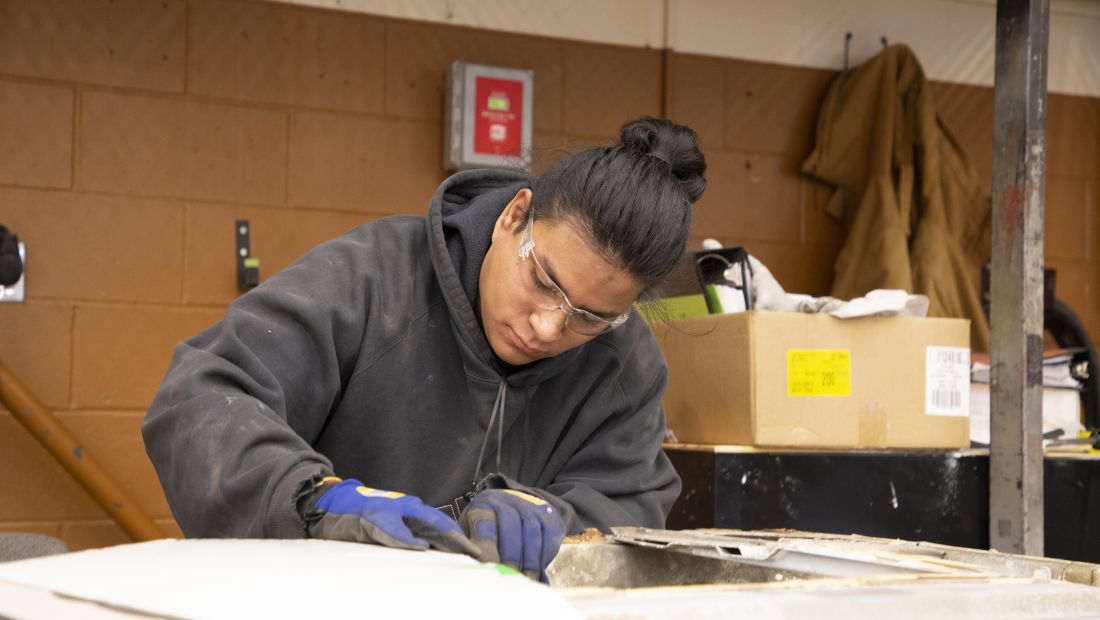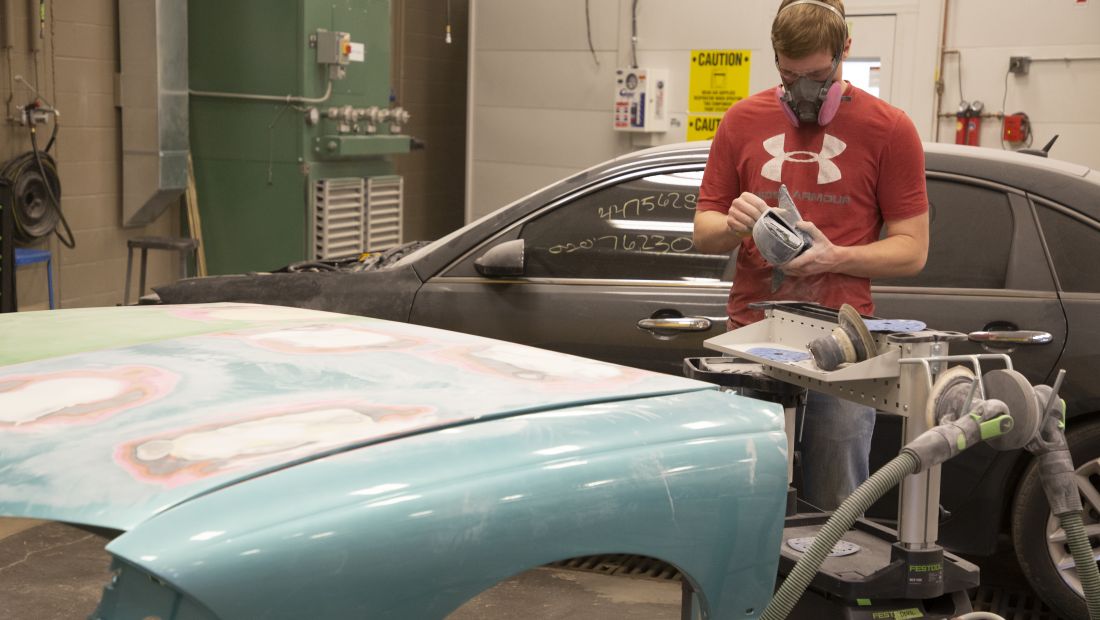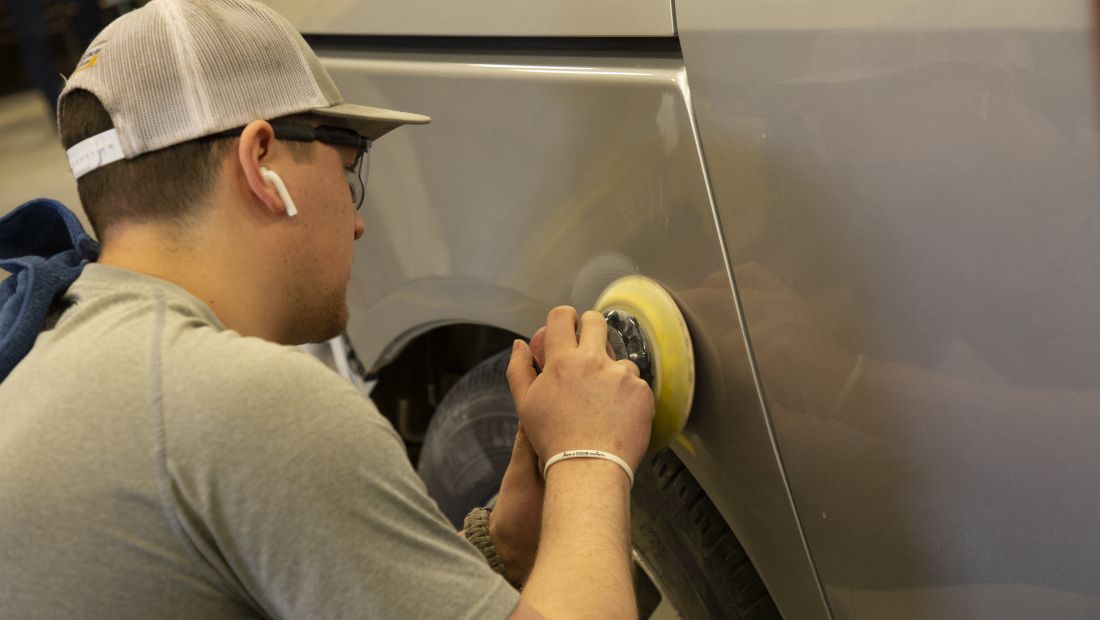 Ready to Take the Next Step?
Are you ready to learn more about the Auto Body Collision program and being a student at SCTCC? Visit SCTCC for a tour or an information session.
Connect with the SCTCC Admissions team:
Call us at 320-308-5089
Email us at enroll@sctcc.edu
On campus Monday-Friday, 8 a.m.-4:30 p.m.
Visit SCTCC
Want to know more about SCTCC?
12.4.23 01:00pm
Main entrance: 1540 Northway Drive, St. Cloud, MN
12.8.23 09:00am
Main entrance: 1540 Northway Drive, St. Cloud, MN
12.12.23 09:00am
Main entrance: 1540 Northway Drive, St. Cloud, MN
Paying for College
Students choose SCTCC for a lot of reasons, but saving money is one reason we hear from almost every student at SCTCC. We've got a breakdown of the costs for the program, along with information on financial aid and scholarships.
In addition to tuition and fees, students can expect additional costs for tools and books.
Grainger Tools: Apply for this scholarship through the SCTCC Foundation
Automotive Scholarship Central: Scholarships from the University of the Aftermarket Foundation and more than 30 additional organizations and donors. More info & apply online
Collision Education Foundation: Scholarships for veteran collision repair students and family members of military veterans. More info & apply online
Specialty Equipment Market Association (SEMA): Scholarship awards range from $2,000 - $3,000. More info & apply online
Apply just once and students are considered for all eligible scholarships.
Program Info for Current Students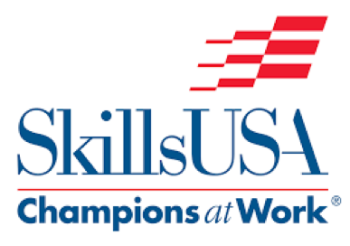 SkillsUSA is a partnership of students, teachers and industry working together to ensure America has a skilled workforce. SkillsUSA helps each student excel and provides educational programs, events and competitions that support career and technical education (CTE) in the nation's classrooms.
Good Stuff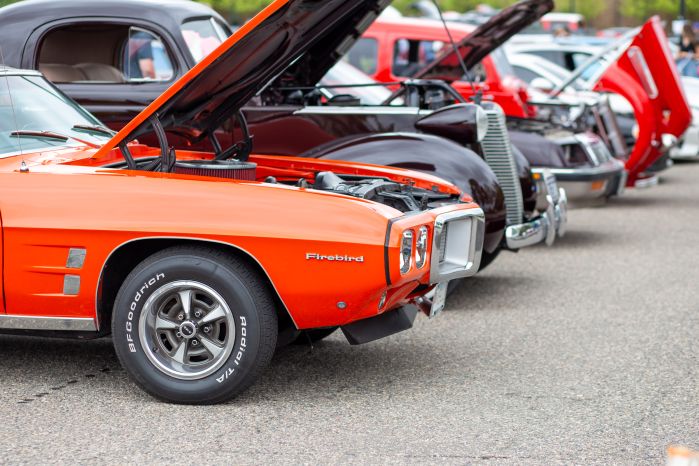 After a three-year hiatus, the St. Cloud Technical & Community College Auto Body skills student club hosted a car show September 23rd. Vehicles ranging from motorcycles, trucks, vintage and modern cars, were on display.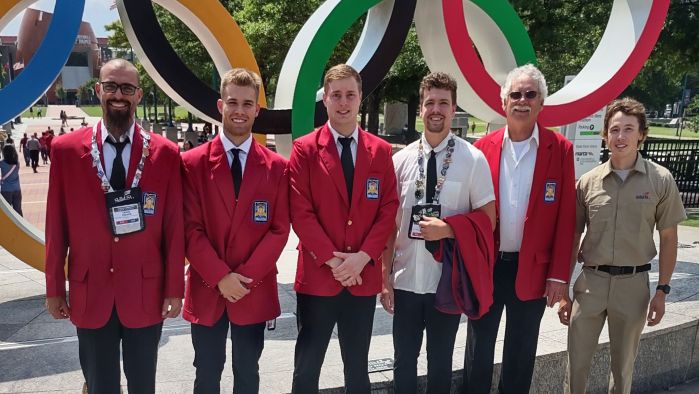 Students Kody Alickson (Electrical Construction), Spencer Doran (Auto Body), and Carson Richter (HVAC/R) represented SCTCC well at the 2023 National SkillsUSA competition held in Atlanta June 17-23...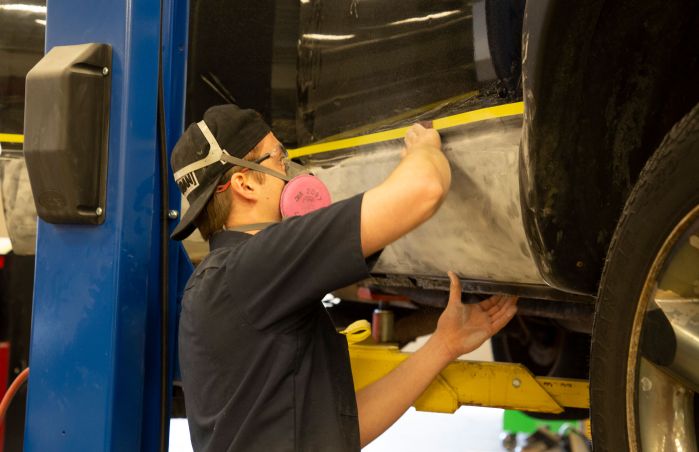 Two SCTCC employees have been recognized by the Minnesota State Transportation Center of Excellence. Roseanne Anderson, the Administrative Assistant for the Trades & Industry division, was awarded the...
More Like Auto Body Collision Technology