DEGREES IN
Plumbing
Plumbing Diploma
This Diploma provides the technical skills for a career as a plumber in residential, commercial, industrial, and service plumbing. Classes focus on a wide variety of tasks.
Plumbing, Shop Management Associate of Applied Science
This AAS is designed with an emphasis on shop management and communication skills for a career as a plumber in residential, commercial, industrial, and service plumbing.
Why Choose This Program
Plumbers are in high demand and are an important part of public health and welfare. The career path is a great one to choose because the world will always need plumbers, which ensures you will always have job security.
In our programs, students will learn installation of fixtures, pipe threading, the tools and equipment used, water supply, drainage systems, fabrication and testing, maintenance and repair, and hydronic heating. These skills are necessary for students to succeed in their future careers.
As part of the program, students will also learn to read blueprints, plumbers' math, the State of Minnesota Plumbing Code, and trade knowledge. SCTCC graduates are ready to enter the field as apprentices. There are many career paths our graduates can take, so your student can follow the route right for them.
Placement rate from self-reported data of employment in field of study up to one year post graduation. Wage data is from Minnesota Dept. of Employment and Economic Development (DEED).
From Degree to Career
When you choose the Plumbing program at SCTCC, you'll gain skills that will directly transfer to the workplace. There are several employers in the St. Cloud area that are ready to hire plumbers, including Masters Plumbing, Tradesmen International, Voss Plumbing and Heating, and more.
At SCTCC, we teach our students the skills they need to succeed in the workforce. Our graduates are trained in blueprint reading, estimating plumbing jobs, and knowledge of MN code. We also teaching students to problem solve and solder and braze.
Quick Glance
Blueprint Reading
Estimating plumbing jobs
Knowledge of MN code
Problem solving
Soldering and brazing

View all program learner outcomes
Types of Careers
Students from our Plumbing program have a variety of career paths they can follow. SCTCC graduates have worked in plumber construction, plumber service technician, and even maintenance. You can even find our students working as pipefitters and sprinkler fitters.
Potential Employers
With the skills taught in our classrooms, graduates have found employers in plumbing contractors, mechanical contractors, cities, counties, and even plumbing product sales representatives.
A day in the life of an SCTCC Plumbing program graduate often consists of working with a plumbing contractor as a service technician. They use skills like problem solving and blueprint reading to deliver the utmost quality of work.
Quick Glance
Types of Careers
Plumber construction
Plumber service technician
Pipefitter
Sprinkler fitter
Maintenance
Potential Employers
Plumbing contractors
Mechanical contractors
Cities and counties
Plumbing product sales representative
Plumbing is a career that will always be necessary in the world, so our graduates have found jobs with a variety of organizations. Students have worked with Masters Plumbing, Tradesmen International, and even Voss Plumbing and Heating. Our graduates have even found jobs with:
KMI Plumbing
Augusta Plumbing
Vetsch Plumbing Service
Precise
Gluek Plumbing
JBerd Mechanical
Falcon Mechanical
Quick Glance
Masters Plumbing
Tradesmen International
Voss Plumbing & Heating
KMI Plumbing
Augusta Plumbing
Vetsch Plumbing Service
Precise
Gluek Plumbing
State of Minnesota Department of Labor and Industry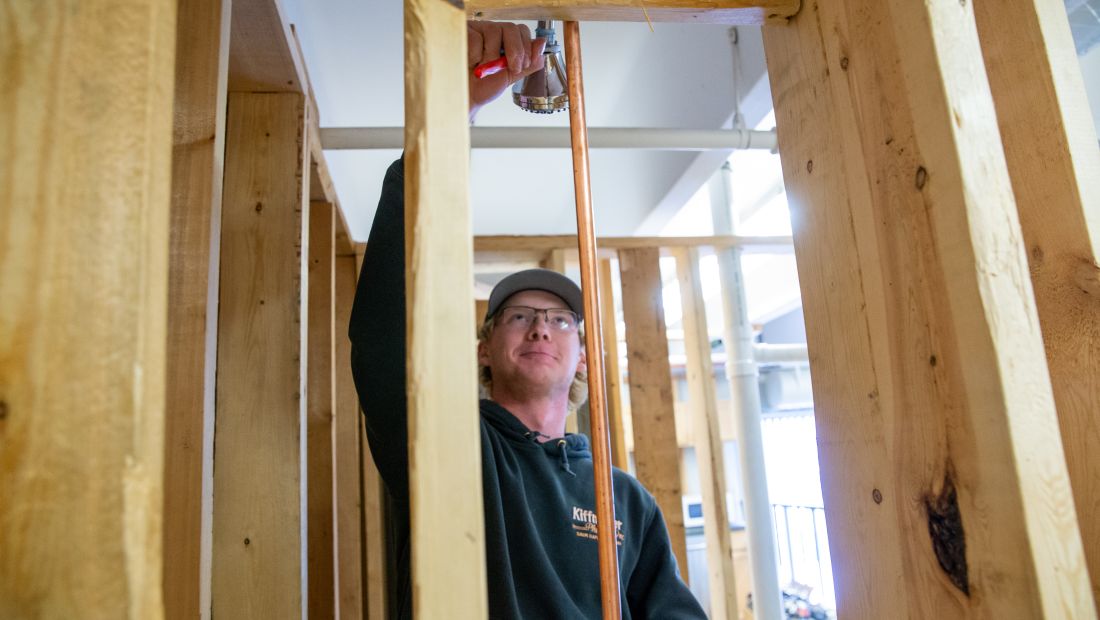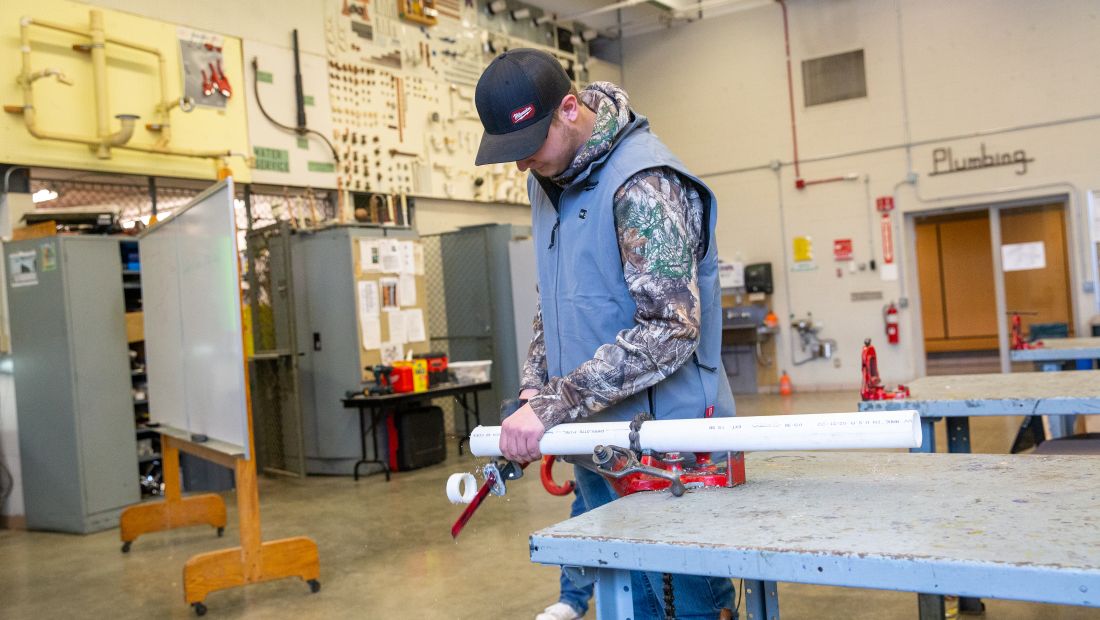 Ready to Take the Next Step?
Are you ready to learn more about the Plumbing program and being a student at SCTCC? Visit SCTCC for a tour or an information session.
Connect with the SCTCC Admissions team:
Call us at 320-308-5089
Email us at enroll@sctcc.edu
On campus Monday-Friday, 8 a.m.-4:30 p.m.
Visit SCTCC
Want to know more about SCTCC?
10.19.23 09:00am
Main entrance: 1540 Northway Drive, St. Cloud, MN
10.19.23 11:00am
Main entrance: 1540 Northway Drive, St. Cloud, MN
Paying for College
Students choose SCTCC for a lot of reasons, but saving money is one reason we hear from almost every student at SCTCC. We've got a breakdown of the costs for the program, along with information on financial aid and scholarships.
In addition to tuition and fees, students can expect to pay $1240-$1710 for books, supplies, and materials.
The following scholarship is specifically for plumbing students:
Robert Blomquist Memorial
Apply just once, and students are considered for all eligible scholarships.
Program Info for Current Students
SkillsUSA - Plumbing Club
SkillsUSA is a partnership of students, teachers and industry working together to ensure America has a skilled workforce. SkillsUSA helps each student excel and provides educational programs, events and competitions that support career and technical education (CTE) in the nation's classrooms.
Good Stuff
When three SCTCC Construction programs get together to work on a project, you can bet the results will be great. The Carpentry, Electrical, and Plumbing students work together on a construction...