DEGREES IN
Paramedicine
Paramedicine Associate of Applied Science
This AAS provides the skills for a career as a paramedic for ambulance services, hospitals, city health agencies, fire departments, and law enforcement agencies. Graduates will have the opportunities to take the national level Paramedicine exam.
Why Choose This Program
Do you want to advance your Emergency Medical Service (EMS) career to the next level? You can earn your Paramedic Certification in 14 months while attending class one day a week and arranging clinical times around your schedule. Our program offers this flexibility to meet the student's quality of life needs.
Our program includes classroom and online instruction covering anatomy, physiology, patient assessment, advanced airway, shock/trauma management, cardiovascular disease recognition and management, advanced treatment protocols for trauma, medical and special patient emergencies, and clinical and field internship. Graduates of the program are eligible to take the NREMT Paramedic certification examination.
Our paramedic program is typically offered to the public (civilian), fire departments, EMS agencies, and the military. The only prerequisite for admission into the paramedicine program is having a current Emergency Medical Technician certification by the first day of the program.
In the SCTCC's paramedicine program, our students receive a high level of training to make certain they will provide advanced care through medications and invasive procedures in the pre‐hospital and hospital environment.
Placement rate from self-reported data of employment in field of study up to one year post graduation. Wage data is from Minnesota Dept. of Employment and Economic Development (DEED).
From Degree to Career
When you choose the Paramedicine program at SCTCC, you'll gain skills that will directly transfer to the workplace. There are several employers in the St. Cloud area that are ready to hire paramedics and EMT personnel.
In the SCTCC's paramedicine program, we teach students the necessary skills to provide the best care to future patients. We teach our students how to effectively assess patients for medical and trauma instances, basic and advanced airway management, endotracheal intubation (ETI), and ventilator management.
After graduating, students will know the necessary processes needed to succeed in the workforce. At SCTCC, we train our students how to utilize Supraglottic Airways, Surgical Airway and Cricothyrotomy, Transtracheal Jet Insufflation, Bag Valve Masks (BVM), and Continuous Positive Airway Pressure (CPAP).
With a paramedicine degree from SCTCC, graduates can administer Intravenous Access (IV), Intraosseous Access (IO), and medication for over 60 different medications. Our students ensure quality care by interpreting cardiac rhythms and 12 Lead application.
We even teach our students how to use pacing, defibrillation, and cardioversion, chest decompression, bandaging, splinting, and spinal immobilization so that every paramedicine graduate from SCTCC is prepared for the workforce.
Quick Glance
Patient Assessment (Medical and Trauma)
Basic and advanced airway management
Endotracheal Intubation (ETI)
Supraglottic Airways (i.e. King Airway, Combitube)
Surgical Airway / Cricothyrotomy
Transtracheal Jet Insufflation
Bag Valve Mask (BVM)
Ventilator management
Continuous Positive Airway Pressure (CPAP)
Intravenous Access (IV)
Intraosseous Access (IO)
Cardiac rhythm interpretation
12 Lead application and interpretation
Pacing, Defibrillation and cardioversion
Medication administration (over 60 medications)
Chest Decompression
Bandaging, splinting, spinal immobilization

View all program learner outcomes
Types of Careers
With a degree in paramedicine from SCTCC, our graduates have worked as paramedics, emergency department technicians, and flight paramedics, but the options do not end there. Students can even use their degree for park services or medics on offshore oil platforms.
Potential Employers
From ambulance services, hospitals and emergency rooms, flight services, and event coverage, with a paramedicine degree, our students are certain to find potential employers in the St. Cloud community and beyond.
For current employment rate see chart below.
Many of our SCTCC graduates have gone on to work around the state of Minnesota. You can find our paramedicine program students working with Mayo Health Care EMS, North Memorial Health Care EMS, Multiple Rural EMS providers, Centra Care EMS and Allina Health EMS. Our graduates utilize skills taught in SCTCC classrooms in their careers every day.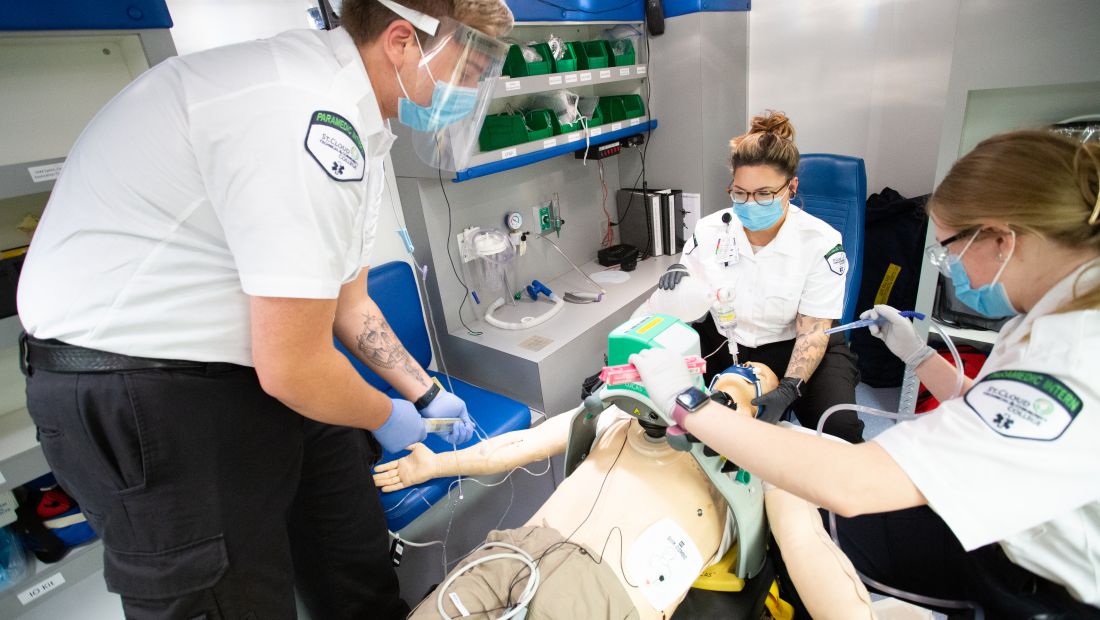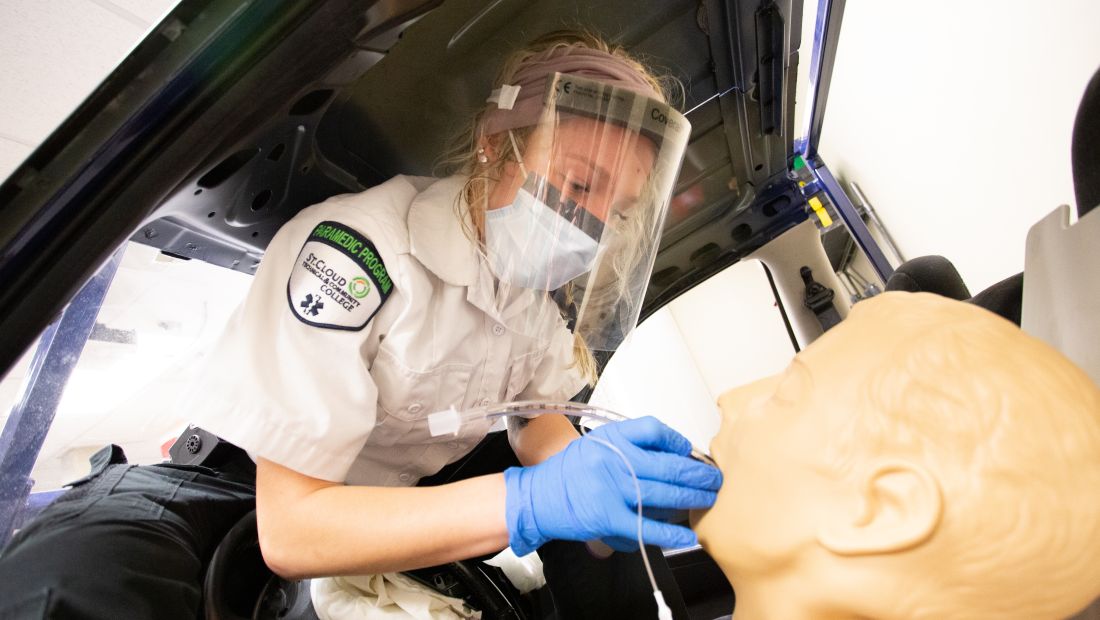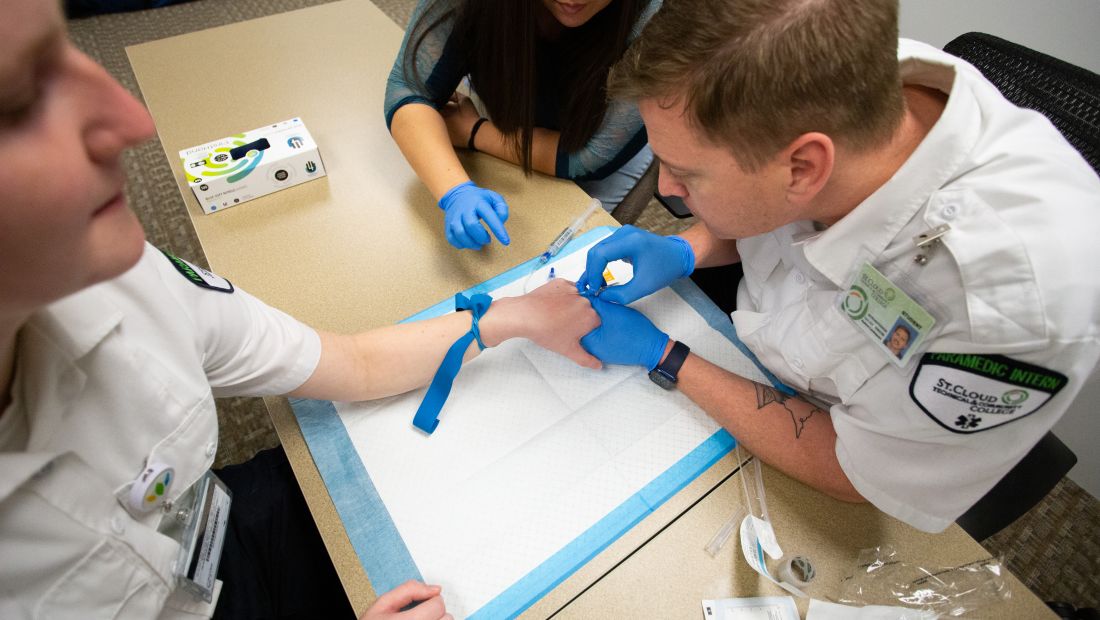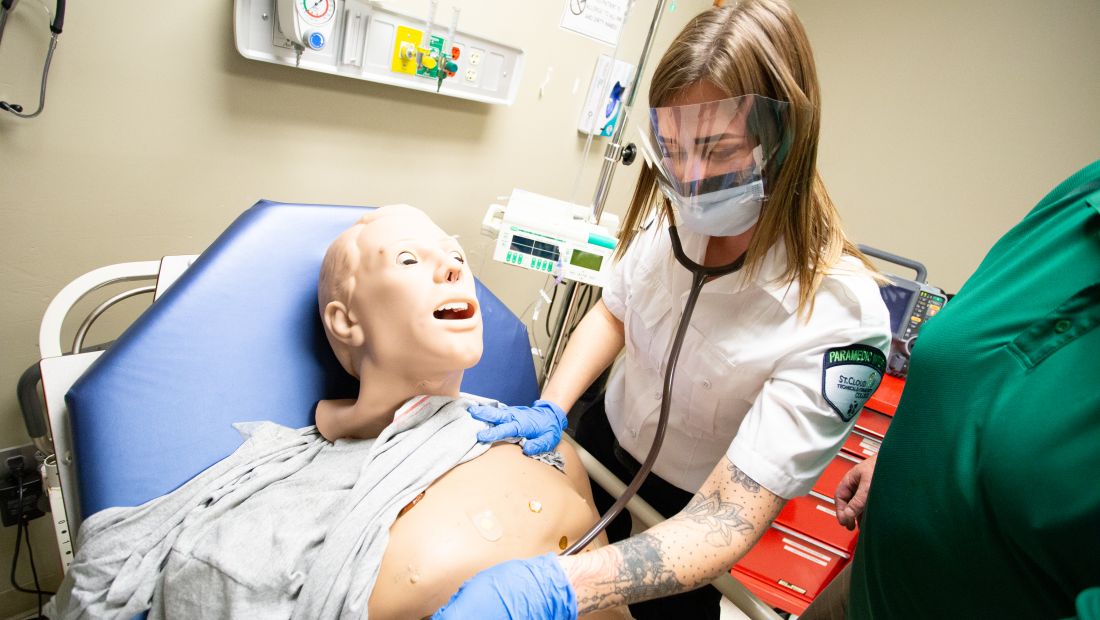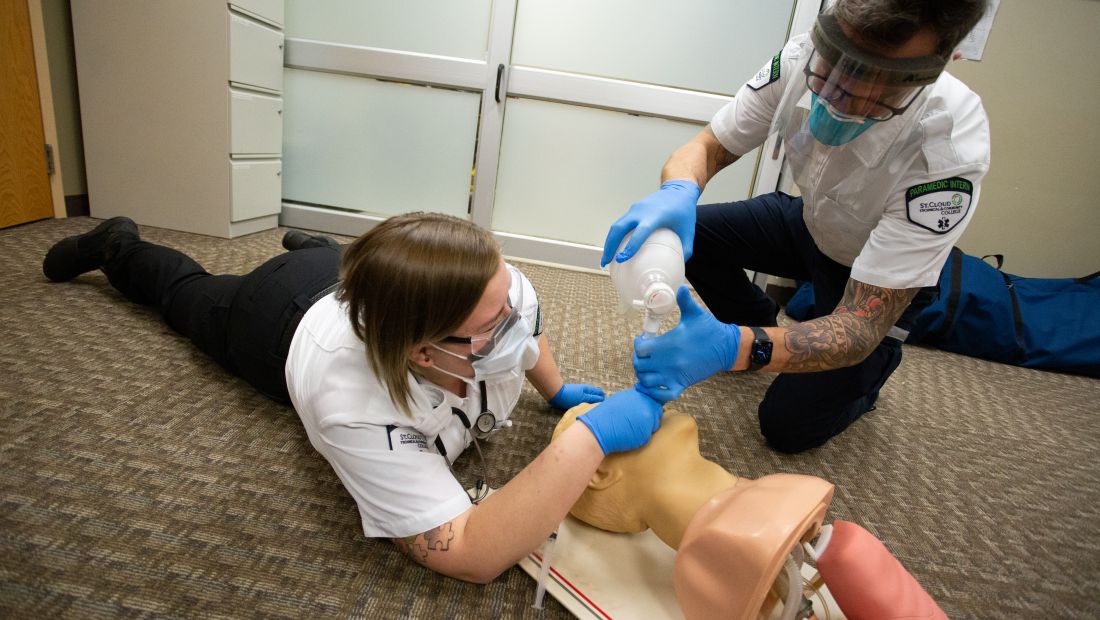 Ready to Take the Next Step?
Are you ready to learn more about the Paramedicine program and being a student at SCTCC? Visit SCTCC for a tour or an information session.
Connect with the SCTCC Admissions team:
Call us at 320-308-5089
Email us at enroll@sctcc.edu
On campus Monday-Friday, 8 a.m.-4:30 p.m.
Visit SCTCC
Want to know more about SCTCC?
12.12.23 09:00am
Main entrance: 1540 Northway Drive, St. Cloud, MN
Paying for College
Students choose SCTCC for a lot of reasons, but saving money is one reason we hear from almost every student at SCTCC. We've got a breakdown of the costs for the program, along with information on financial aid and scholarships.

Net Price Calculator
Applying for Financial Aid
SCTCC Scholarships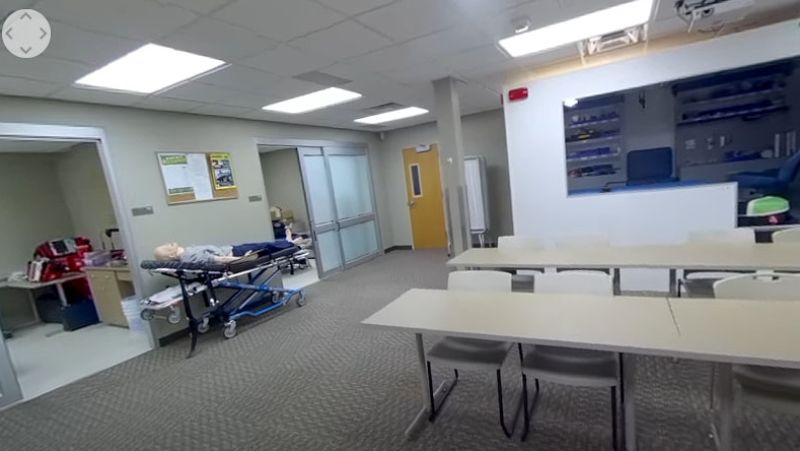 Program Info for Current Students
Current students who are Pre-Paramedicine can contact the Academic Advising Center.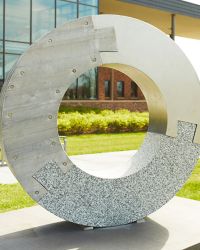 1540 Northway Drive
St. Cloud, MN 56303
Good Stuff

The SCTCC Paramedicine program has been ranked 22nd in a nation-wide assessment of Best Emergency Medical Services Degrees by Best Accredited Colleges. The Best Accredited Colleges methodology...

Amongst new microscopes and clean beakers, a group of community members, CentraCare representatives, and SCTCC faculty and staff gathered to celebrate the Ribbon Cutting for SCTCC's new Biology Labs...

An ambulance donation by St. Cloud Gold Cross to the SCTCC Paramedicine program is one way students are getting real-world experience for their careers. When the program expressed a need for an...