TRIO students can visit nearby destinations for cultural or educational activities. TRIO SSS also sponsors interactive workshops so students can build and develop new skills related to college life.
 
Print or view the Events Schedule
Cultural & Education Field Trips
The TRIO SSS program offers a number of cultural and education trips each year. Students have the opportunity to tour local and regional museums and attend events. Examples of past field trips include: Stearns History Museum, Hmong Cultural Center, Science Museum of Minnesota, Heritage House, and Minnesota Renaissance Festival.
Workshops
TRIO SSS offers workshops on topics including stress reduction, campus technology, financial literacy, and much more. Additionally, the TRIO SSS program also hosts FAFSA and scholarship labs where students can get support and assistance with these applications.
Transfer University Visits
Each semester, students visit universities that offer transfer options for students hoping to continue on with their education after earning their degree at SCTCC. Students tour the universities and also learn about any TRIO programs offered there.
TRIO News
On Wednesday, May 10, SCTCC students, faculty, and staff gathered in the Commons to celebrate students and others who have made a difference during their time at the College. The Cyclones Celebration...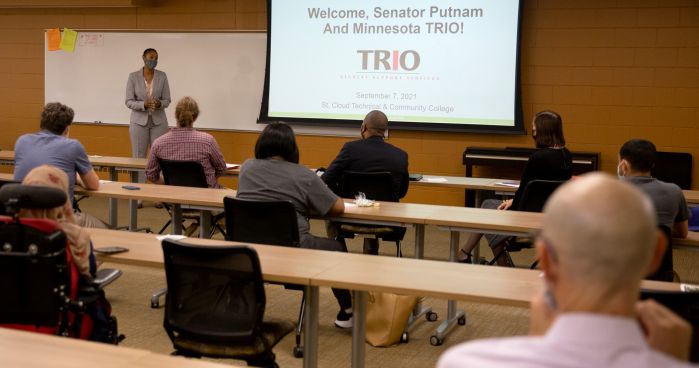 On Tuesday, Sept. 7, SCTCC was host to several area TRIO programs as they met with Minnesota District 7 Senator, Aric Putnam. Along with SCTCC, Sen. Putnam represents students at Central Lakes College...

St. Cloud Technical & Community College (SCTCC) is happy to announce that its TRIO Student Support Services (SSS) grant was renewed for $1.5 million over the next five years. The grant is awarded...
Community is Key to TRIO
It's like a little family at school. Everybody's uplifting each other. - Nia
The TRIO Student Support Services program at SCTCC is celebrating 25 years.